By Andrew Reinert on May 04, 2010 with Comments 0
---
Acne, a skin condition that affects many people from teens to adults, can show up on your face, your back, your chest or any other part on your body where oil reproduction is present. Acne is a result of bacteria and oil trapped in your pores. In removing or preventing acne, it is important that you keep your face clean all the time. Topical and oral medications can help as well, as can taking supplements. That said, the first thing to prioritize in treating your acne is making sure your skin is always washed and clean. Here are some tips that can help you in cleaning your skin and preventing acne.
Procedure:
1. Make an astringent mixture by mixing one part apple cider vinegar with one part cool water, then put it in a container so you can use it as a cleanser. You can also put the mixture in ice cube trays and let it freeze. This is best for hot summer facial treatments.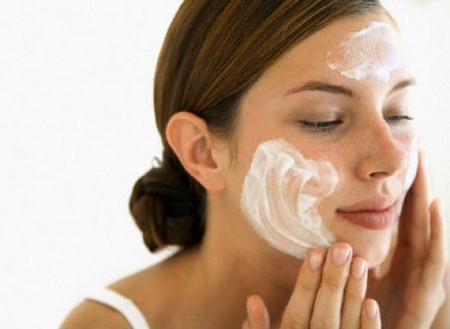 2. Make an overnight paste. Combine honey, wheat, flour and vinegar to make a paste to apply to your face and leave it there overnight. Rinse the paste off in the morning. This paste will help speed up the healing process and minimize the size of your pimples.
3. Make an acne treatment. Mix one part vinegar to ten parts water in a clean travel-size bottle. Make sure to clean your face in the morning and carry this mixture with you throughout the day. With a cotton swab, dab a little of the mixture on your acne a few times during the day. This will help dry out your pimples, and the vinegar will help maintain the proper pH balance of your skin. If irritation occurs, discontinue use of the mixture. This treatment also aims to prevent future breakouts.
4. Do a simple "anytime treatment." Apply one or two drops of Tea Tree Oil to your pimple or blemish day or night. It is your choice on how long you leave it in, but be sure to avoid the eye area. Tea Tree Oil has a fast-drying property that can help instantly dry out pimples and acne.
5. Put a lemon wedge on your pimple. You can directly put the lemon slice on the affected area or dab a cotton swab coated with lemon juice. Lemons' acidity helps dry out pimples, and the juice has a natural skin-bleaching property that can help remove stubborn pimple marks and scars. Be sure not to rub it in too much because it can cause irritation to sensitive skin.
6. Have a balanced lifestyle. Do exercise daily, as this will promote proper blood circulation. Eat foods that are rich in fiber such as fruits and vegetables. Drink a minimum of six to eight glasses of water every day. These are ways to detoxify your body to achieve a healthy-looking glow. Detoxification helps get rid of acne as well. Also, be sure to take a bath and wash your face after you sweat.
Filed Under: Health & Personal Care
About the Author: Andrew Reinert is a health care professional who loves to share different tips on health and personal care. He is a regular contributor to MegaHowTo and lives in Canada.
Comments (0)