By Andrew Reinert on Jul 30, 2010 with Comments 0
---
Most people change where they live and what they drive more often than their mattress or pillows. Nothing lasts for ever. A good mattress should last about 10 years. When is the last time you replaced your mattress? Don't wait until you find yourself rolling into the middle of the bed when you turn over or being pinched in the back by a broken spring to buy a new one. The chances are that you're not getting the benefits of a good night's sleep and you wake up feeling stiff. As soon as you hear the mattress start to creak, change it.
Building a foundation
The most important way to judge a mattress is by how it feels. When buying a mattress, ignore the manufacturer's description and the salesperson's pitch – take off your shoes and lie on it. If the mattress is too soft it will give way to your lower back, if it's too firm there will be too much pressure on your hips, back and shoulders. If your partner likes a different firmness of mattress to you, buy one with two different sides.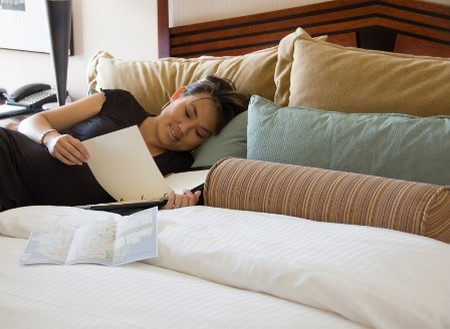 Take your time. A third of your life is spent sleeping. Although there are very few studies showing the effects of a good mattress on how well you sleep, ask anyone who complains of back pain how their mattress affects thorn and you will invest in the best. Being comfortable and relaxed are prerequisites for a good sleep.
Pillow talk
Choosing the right pillow is essential if you want to get a good night's sleep. They come in a variety of sizes, shapes and materials to suit all sleep habits and accommodate all bed sizes. Remember, though, that American and European sizes vary.
The best pillows, which are unfortunately also the most expensive, are made from prime goose down and make you feel like you are drifting off to sleep on a cloud. The benefits of down pillows are that they are extremely lightweight and long-lasting. A friend of mine has her pillows made in a tiny town in Alsace, France. She actually goes to select the feathers and swears that they are the finest pillows in the world. Wherever she travels, she always takes her pillow with her.
Feather pillows are a cheaper version of down, being the least expensive type that you can buy. They are more firm than down and come in a variety of weights. Test them out to make sure that there are no sharp edges poking through.
You can also get pillows with a combination of feathers for firmness and down for softness which come at a middle-of-the-road price.
For those with allergies, it may be best to use polyester pillows, which are available in different degrees of firmness. The best quality polyester pillows can be expensive.
Foam pillows are another option for those with allergies. Make sure that the foam is of the best quality or it will deteriorate more quickly than pillows made with other materials. Malouf pillows are also a good option to get a proper rest each night.
As a general rule of thumb (although only your body knows for sure), firm pillows are usually best for people who sleep on their side, soft pillows work better for those who sleep on their tummy and medium pillows give the right support for those who sleep on their back.
Always put a cover on your pillow before putting on your pillowcase. It can help extend the life of your pillow and keep it free from the natural oils on your scalp. Wash the pillow cover along with your bedlinen weekly.
Filed Under: Health & Personal Care
About the Author: Andrew Reinert is a health care professional who loves to share different tips on health and personal care. He is a regular contributor to MegaHowTo and lives in Canada.
Comments (0)