By Jason Prickett on Feb 20, 2010 with Comments 0
---
As a stylish outdoor living area, a well-planned balcony has a place for a small selection of carefully chosen ornaments and accessories to add a touch of humour or originality to the total scheme. This might take the form of an individual piece of sculpture, displayed to full advantage in a corner against a background of greenery, or a smaller piece raised on a plinth where it will command immediate attention as a focal point, especially if carefully spotlighted at night.
A less expensive option is one of the many ornaments available from garden centres and the more tasteful specialist garden shops. You can buy classical statuary in a great many sizes and styles, from life-size figures and baskets of fruit to more whimsical stone pigs, terracotta geese or other creatures, to be positioned peeping out from around trellis, pots or tubs.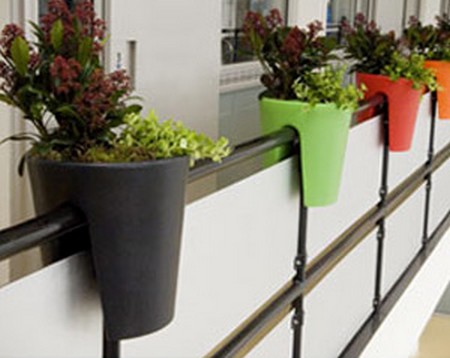 To reinforce an oriental atmosphere on the balcony, there are bowls, buddhas, little pagodas and stone lanterns to be added sparingly to your scheme. Some large pots and urns, especially the pretty glazed Chinese ginger jars, could be considered more as ornaments than plant containers. This is especially so when their necks are narrow in relation to their base, making them unsuitable for planting, or where urns have been made by a master potter to a unique design and finish, so are particularly attractive. They can look superb left empty and arranged in groups of different sizes, or incorporated into a collection of plant containers. With an eye for the unusual and interesting, even smooth sea-washed pebbles, a piece of driftwood, or an old metal birdcage can become a balcony ornament full of character and interest.
For any decorative piece, the right setting is essential for fee the best effect: surrounding the item with plants helps fir integrate it beautifully into the total scheme. Alternatively, you can highlight a piece of sculpture or ornament by giving it pride of place on a low platform, tall plinth or shelf.
Filed Under: Home & Maintenance
About the Author: Jason Prickett loves to write about home maintenance and stuff you can do yourself instead of hiring any professional. His step by step guides will assist you in completing your home maintenance tasks.
Comments (0)