By Jason Prickett on Mar 08, 2010 with Comments 0
---
If your room seems harsh and unwel­coming, it could simply mean that you need to rethink your lighting arrange­ments. Lighting a room successfully is possibly one of the most difficult things to do because every lamp, every lamp­shade and every light bulb can create a different effect and a different mood -and even moving them a foot or two will change the entire effect again.
Playing tricks with light
Even if your room looks sublime in daylight, if the lighting is bad it will always look uninteresting after dark. Conversely, good lighting can make an ordinary room look marvellous. As with colour, you can play tricks with light. In a tall room the light from a chandelier will make the room look lower and more intimate; wall lights will make a large room look cosier.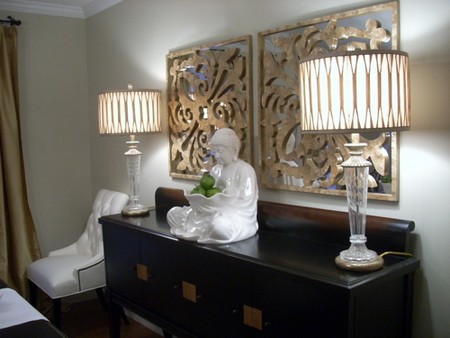 To make a room look larger, direct ceiling spotlights towards a wall and flood it with soft light. Highlight any good points your room may have with spotlights or uplighters and tone down any bad points. Areas of light and shade are interesting – a single light source in the middle of the room is not.
Also, take a look at these ideas for kitchen cabinet lighting using LED strip lights.
The best lighting
The best lighting is totally concealed with ample recessed spotlights tucked carefully away in the ceiling and tiny pencil spots used to highlight pictures, vases, pillars and anything else you are proud of. But this lighting is expensive to install and anyhow may be inappro­priate in your home.
Instead, the easiest solution is to fit in as many table lamps as you can and try and arrange it so that they all turn on at the same time. Also attach them to a dimmer switch. The secret is to make sure you have enough lights.
Light should be soft and welcoming and never shine in anyone's eyes. Choose lower rather than higher wat­tage bulbs, unless you are using the light to read or work by. The position of a lamp is important to comfort. As a general rule, the bottom of the shade of a table lamp should be at the eye level of the seated person and the light bulb should be invisible at all times.
Choosing lamps
As with all furniture, lamps should be the right height and size for your other furnishings. Lampshades should be neither too large nor too small for the base of the lamp they are shading. Shades that are light and flattering in colour are preferable to dark ones, which can cause eye strain and may be depressing. A large pattern is suited to large shades; smaller shades should be plain or covered with a small pattern.
Filed Under: Home & Maintenance
About the Author: Jason Prickett loves to write about home maintenance and stuff you can do yourself instead of hiring any professional. His step by step guides will assist you in completing your home maintenance tasks.
Comments (0)