By Cody Riffel on Jul 05, 2010 with Comments 0
---
Face painting is a good way of having fun on auspicious occasions, such as birthday parties, cricket and football matches, dance and stuff like that. Face painting is a difficult art and it demands practice. It depends upon your skill that which designs you make. Many books have designs for face painting. These are easily available in the market. You also see these designs on internet. You should keep the following things in mind while choosing face paints:
The face paint should be safe for use. It should not be like ordinary paints. The label should say that it's safe. If you will neglect this point your children's sensitive skin may bear serious consequences. Paints with perfumes and toxic materials are deleterious to your skin.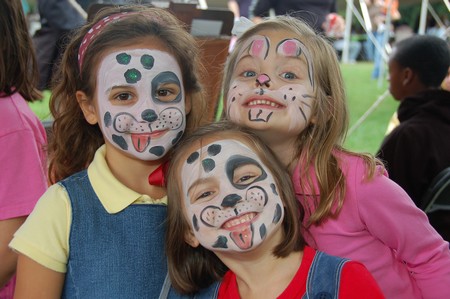 First of all, you should determine that why you want the face paint. You can enjoy the pure paint if want to have real fun. Otherwise you can use a starter, if want to use it secondarily.
You should know what medium you are using for your face paints. Most commonly used face paints are of cake variety. It looks like the water colors of your kids. Other types are also available in market. Crayons are easiest for use as a more controlled painting can be done by them. But many beautiful designs can never be formed by crayons.
The design you are going to make depends upon your imagination and your open mindedness. You can have a whole lot of artistic designs on your face when you are using cakes.
The most appropriate colors which children also like are red and blue. You can also give shades of yellow and purple if you have got a definite plan in your mind. Sharp colors will always be liked by your children.
Now, determine how skilled you are. You must carry out appropriate practice with stick paints if you are not skilled. If you have grown advanced you need not to worry about these things. You are just superb for any kind of medium.
You should estimate now that what resources will be required for this task. Some colors and brushes are necessary. More complicated designs can be formed by you if you concentrate hard for them.
For applying face paints you will need some tools. You can paint with special brushes commonly known as the sponge brushes which possess proper absorbing power so that the face may not become so wet with paint. Other face painting tools are also available in the market.
Face painting is too easy for you and it can be done at highly inexpensive rates with full relish. Now you can enjoy games with your country's flag painted on your face. I think you should get started now to become an expert.
Filed Under: Arts & Entertainment
About the Author: Cody Riffel is a regular contributor to MegaHowTo. She likes to write on variety of topics, whatever interests her. She also likes to share what she learns over the Internet and her day-to-day life.
Comments (0)