By Jason Prickett on Mar 08, 2010 with Comments 0
---
If your chairs and sofas are beginning to look their age, or you are getting bored with the fabrics, it is probably time for some new covers. This can be expens­ive, so use your imagination before you start looking for new fabrics for either loose or fitted covers.
One way of either hiding stains or distracting the eye from threadbare patches is to smother your seating with cushions – lots of them. If you have tried this and finger-smudged edges and cat-scratched arms are still staring at you, then find a beautiful piece of fabric and simply throw it over the entire seat. Any piece of fabric that suits the style and colour of your room will do. A horse-blanket can be used in a bold setting; a kelim or other ethnic rug or blanket lends an exotic air; an old bed­spread looks warm and friendly and crisply starched white sheets draped over two or three chairs look summery and Scandinavian – great in a starkly furnished room.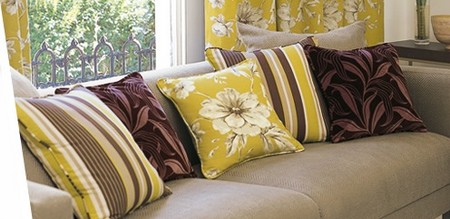 Cushions can make even the most ordi­nary room feel luxurious. They soften stark lines, introduce new colours, turn alcoves into cosy corners and change stools, window seats and beds into comfortable seats.
Cushions can be highly ornate: they can be overstuffed, ornamented with tassels and trimmings and covered in soft, sensuous fabrics. Or they can be angular and geometric in plain acidic colours with a simple large button in the middle for decoration. It is up to you to choose the style that will best comple­ment your room.
Types of cushion
There are three main types of cushion: scatter, boxed and bolster. Scatter cush­ions are usually small and thrown onto sofas and chairs to cheer up an existing colour scheme. Boxed cushions are gen­erally found on window seats or hard chairs. They are firm and often have a decorative piped border to emphasize the cushion's square edges. Bolster cushions are tubular and can either be soft and used as decoration, like scatter cushions, or harder and used as back or arm supports on sofas or day beds.
Cushion fillings
Cushion fillings vary in cost and firm­ness. Many fillings give off poisonous fumes if they catch fire. Cover them with fire-resistant material or avoid using them.
Feathers
Feathers are the most expensive but longest-lasting filling. Drawbacks are that they need to be plumped up after use, they have to be dry-cleaned and they may bring on allergies.
Kapok and Terylene
Both of these fibre fillings are cheaper than feathers and non-allergenic. Tery­lene (polyester fibre) is washable, whereas kapok (vegetable fibre) becomes matted after a while.
Latex and foam
Latex and foam are ideal for firm cush­ions as they are already shaped. Foam chips are washable.
Filed Under: Home & Maintenance
About the Author: Jason Prickett loves to write about home maintenance and stuff you can do yourself instead of hiring any professional. His step by step guides will assist you in completing your home maintenance tasks.
Comments (0)