By Jason Prickett on Mar 08, 2010 with Comments 0
---
Since curtains set the style and mood of the whole room, it is important to get the window covering right. So start by taking a critical look at how your windows are dressed.
If your existing curtains are definitely a mistake can you move them anywhere else in your home (or remake them as blinds)? Or can they be reused on the same windows as the lining and interlin­ing? In this case all you need to do is add a new fabric on top – which will certain­ly save you some money.
If you are quite happy with your existing curtains but just feel they could do with being spruced up, you could add frills, piping, braid, tie-backs and even a pelmet in a contrasting fabric.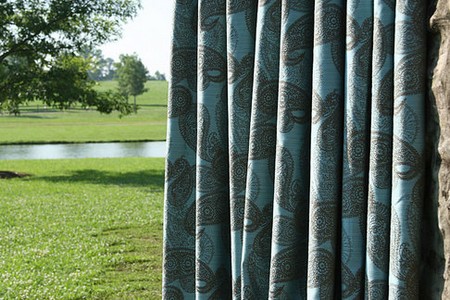 If you want to start from scratch again, the simplest, and one of the cheapest, window treatments is casually to drape a sheer fabric over your window, using a brass or wooden pole. This softens the stark outline of the window frame, filters the sunlight and covers the blackness of the glass reflec­tion at night. Use lace, muslin, voile or lawn rather than resorting to the pre­dictable net curtain – and remember to keep the curtains clean. If you would rather use an opaque fabric why not buy a long strip of a fabric you could not afford to cover an entire window in and drape it over a pole with exotic finials?
Ornamental poles
It could be that simply changing your curtain heading, for example, from a plastic track to a decorative pole, might be enough to make all the difference to your window. Poles are available in a range of both metal and wood, with elegant finials in acorn and globe shapes – even as hands holding up the rod. Wooden poles can always be painted to match the colour of your walls or you could cover them with the same fabric as the curtains – this only works for poles supporting curtains that remain open or poles with hidden tracks, other­wise the fabric will get scratched.
Are your curtains the right length?
It is, of course, easier to shorten existing curtains than to lengthen them. You could even use the left-over fabric to make a pelmet, tie-backs or some cush­ion covers. There are three standard lengths of curtain: floor length (1/2 in, 1 cm) above the floor – or trailing on the floor a little, which is romantic but impractical; sill length (1/4 in, 5mm) above the sill, ideal for kitchens, bath­rooms and nurseries where a less formal look is required; or apron length (1/2 in, 1 cm) above the radiator, for a more formal look, but so the curtains will not block out any heat or get singed.
Are they too short?
If you have several old, identical cur­tains you wish to reuse but they are too short you can join them together to make one full-length pair of curtains.
The join should be at sill height or approximately one-third of the way from the top or from the bottom of the curtain. If you sew the two curtains together so that there is a flap where they meet (i.e. by sewing the lower curtain about 3 in (7 cm) above the hem of the top curtain, but behind it), the join will then become a feature. Check out these made to measure curtains available at Fabric Direct.
Are they full enough?
On the whole, the thinner the fabric, the more you need for the curtain to look full and not skimped. If your curtains have been moved from another, smaller window they may well now look skimpy. You could cut your existing curtain into strips and sew smaller strips of a contrasting fabric in between them to widen the curtain – or you could use the contrasting fabric to make a border on three sides (left, right and bottom) of the existing curtains.
If your curtains just look too flimsy, it is easy to line and interline them. Cur­tains hang better if they are lined, and are still warmer and more substantial if they are interlined. You can either sew a lining to the back of the curtain or simply attach it to the heading tape with curtain hooks.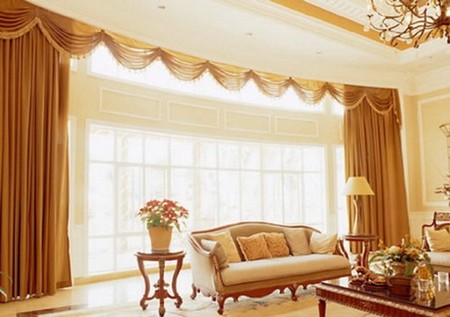 Do you like the pattern?
If you are stuck with curtains with too dominant a pattern, you could always dye them a darker colour although you take the risk that they may shrink. For a more subtle, faded look, a useful tip is to dip your curtains in a bathful of cold tea for one or two minutes, depending on the depth of colour you want. Otherwise add a plain coloured border (about 2 1/2 in (6 cm) wide) to the outside and bottom edges of the curtains about 4 in (10 cm) in from the edge and make tie-backs and even a pelmet out of the same fabric to soften the effect.
Are they too plain?
If your curtains seem generally colour­less and dull, you can always add a border of a contrasting plain or pat­terned fabric or add a cheerful tie-back and pelmet. To give an extra dimension you can always quilt the fabric or add an applique pattern of your choice.
Filed Under: Home & Maintenance
About the Author: Jason Prickett loves to write about home maintenance and stuff you can do yourself instead of hiring any professional. His step by step guides will assist you in completing your home maintenance tasks.
Comments (0)