By Jason Prickett on Jan 17, 2010 with Comments 0
---
Bathrooms are now in a class of their own. Forget the traditional cast iron bath – look around and discover how innovative you can make your bathroom look.
Water, steam and condensation are constant factors in bathrooms. This must be considered when choosing materials for floors, walls and other surfaces. Good ventilation will help tackle the problems of steam and condensation. However splashes from the basin and bath are inevitable, especially if there are small children in the family.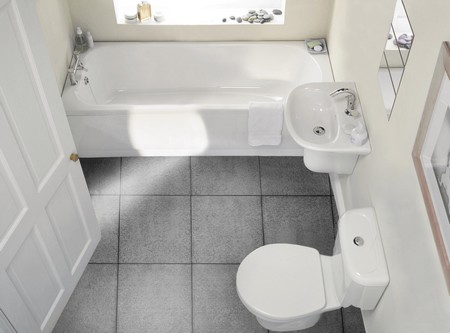 Carpets are undoubtedly very warm and comfortable, although it is vital to choose a type made specifically for bathrooms with waterproof backing. Do not be tempted solely by appearances. Many natural floor coverings, such as seagrass, look stunning but are not practical as they have a tendency to expand and shrink according to how much moisture they absorb. This movement results in nasty gaps around the edges of the room, or wrinkles in the middle.
An alternative to carpet is to lay rugs on top of a more practical floor covering. In this way you will still get the warmth and feeling of luxury a carpet creates, without the water worries – if a rug gets soaked it is a simple matter to pick it up and hang it out to dry.
Vinyl and treated cork make excellent alternatives to carpet. They are practical, being both waterproof and easily washable, and are also warm underfoot. Vinyl is also available in every design and colour imaginable, so it is a simple matter to find a style to suit the rest of the bathroom.
Wood looks good in a bathroom, although it is vital to waterproof it, for example with layers of oil-based paint or varnish. Fitting tongue and groove panelling is a quick and simple way of creating character while Traditional tongue and being extremely practical – covering in an instant groove panels can be rough walls and ugly pipework. used in place of tiles.
Ceramic tiles make excellent wall coverings. In cooler countries all-over tiling can look cold and uninviting, so it is best to restrict them to the areas around the bath, basin and shower.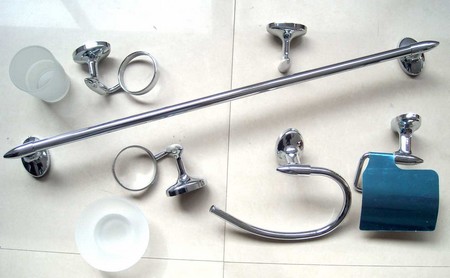 Walls can also be painted or wallpapered. Most manufacturers produce a range of paints specifically designed for use in the bathroom. These are designed to cope with excess water and to repel algae, but they only work if the room is well-ventilated. Similarly there are wallpapers available which have been given a waterproof, washable coating, so are impervious to splashes and are easily wiped down.
Fittings, such as basins and shower trays, are usually made from ceramics, plastics and fibreglass.
Baths used to be made from cast iron finished with enamel, which is rather cold and very heavy although attract­ive. Nowadays, the majority of domestic baths are made from acrylic plastic, pressed steel and glass fibre and are available in a range of styles to suit all decorating schemes.
Filed Under: Home & Maintenance
About the Author: Jason Prickett loves to write about home maintenance and stuff you can do yourself instead of hiring any professional. His step by step guides will assist you in completing your home maintenance tasks.
Comments (0)