By Cody Riffel on Jul 21, 2010 with Comments 0
---
Dragon boat festival, also called Duanwu festival is celebrated in Asian countries especially in China where it originates. The festival is celebrated on the 5th day of the 5th month on Chinese calendar. There are basically three major events. The first is eating balls of rice, second drinking wine and third, watching dragon boat races. Other things can also be done in to make the event more charming and joyful.
Here are some ideas by using which you can celebrate this Festival more joyfully.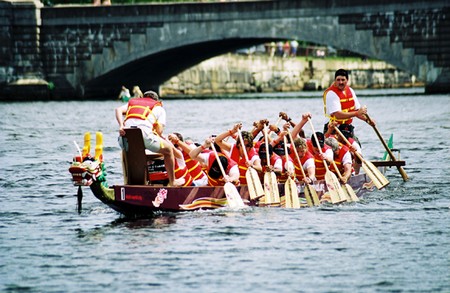 Zongzi, the traditional snack served during this Festival, is a of cake made up of rice having a filling inside. Red beans are the most commonly used filling. The cake is afterwards wrapped in bamboo leaves. You may purchase this snack or cook on your own. Recipe of Zongzi can easily be searched on the internet. Just follow the recipe and you are done.
You should also buy for yourself Xing Huang wine, which a traditional is prepared in this festival. It is a good drink, as it is said that by drinking it one gets rid of the evil spirits. You can get more information about the herb from which this wine is made from website tcmassistant.com
One should also wear some charms or talismans around his neck, the act which is said to ward off the evil spirits and a sign of protected soul. One can easily buy them from any Chinese store. Preferably search for the talismans having Zhong Gui's picture on them.. Some talismans are like pouches that have herbs or other items inside them.
Once you are done with eating and drinking there comes the time to watch the dragon boat races. One can watch it online, on TV or live. This is the real fun part of this festival. Gathering with your relatives and friends and watching these really is the best way to celebrate this festival. You should also check the local sports sites if they have plans to celebrate the Festival. Some states often celebrate this festival by holding their own Dragon Boat Race Competitions.
You can also get training to take part in the boating with the local teams. This really comes out to be a great fun. Rowing a boat of your own is really a fantastic experience, celebrating the festival.
Filed Under: General How To's
About the Author: Cody Riffel is a regular contributor to MegaHowTo. She likes to write on variety of topics, whatever interests her. She also likes to share what she learns over the Internet and her day-to-day life.
Comments (0)