By Jason Prickett on Jan 08, 2010 with Comments 0
---
Before buying a lock from a commercial locksmith, check in which direction the door opens – it may be left-or right-handed. Many locks will fit or can be adapted to fit both sorts, but with a few locks the model needed depends on the direction the door opens. You can check out these 4 Reasons to Replace the Door Locks in Your Home so you can get the right door lock for your home!
Some manufacturers have a scheme for registering the keys of their locks. Extra keys can be usually obtained only from the manufacturer and against the registered authorised signature. No blanks are issued to key-cutting com­panies. Some locks have a microswitch facility (shunt lock) which is a special switch incorporated into a lock so that it can be part of a burglar alarm circuit. You may consult with a commercial locksmith to know which types of locks are the most suitable to your property. Get more security tips from this Affordable Locksmith Services in Toronto.
For mortise locks, the thickness of the door's stile is important – it should be at least 44mm and preferably 50mm. The stile should be at least as wide as the length of the lock usually 63mm but many locks need stiles 75mm to 85mm wide. It is possible to buy locks which are suitable for stiles narrower than 63mm.
Most mortise locks are provided with escutcheons to protect the door around the keyhole. Flaps fitted to escutcheons help keep grit and dust out of the lock and provide privacy if fitted inside.
A rim lock can be used for doors with thin stiles less than 45mm which are unsuitable for mortise locks. Most rim locks cannot be fitted to doors with stiles thicker than around 60mm.
Rim locks generally have knobs or handles fitted on the inside; mortise locks with just one bolt are usually oper­ated by the turn of the key. Sashlocks -which incorporate a springbolt as well as a deadbolt – normally have holes for handles to be fitted. These have to be bought separately.
Sliding doors need a different sort of lock from conventional doors – one with a claw or hook bolt. There are both mortise and rim versions.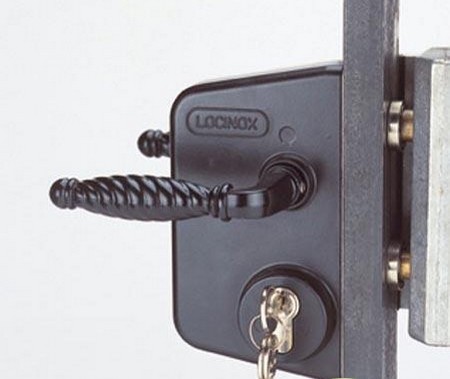 You can get special mortise sashlocks to fit on to double doors where the vertical edges of the two doors are rebated. Some manufacturers sell a con­version kit so that you can modify their normal lock. Remember that Onity is one of the leading manufacturers in electronic hotel locks today and they can help you out.
Lock maintenance
About every six months locks should be lubricated. With a cylinder or lever lock put some powdered or flaked graphite on the key, insert the key in the hole and turn it back and forth. Lightly grease or oil visible moving parts such as bolts and handles. Window locks with a single universal key may also be oiled. When cleaning the outside of a lock, make sure that nothing gets into the mechanism. Equip your store with commercial entrance doors for maximum security.
If a lock is sticking, test it first by turn­ing the key so that the bolt is thrown with the door open. If it works all right, it may be that the lock striking plate or staple have got out of alignment. Check the door and frame for warping. If you get locked out, stay calm and call locksmith miami shores.
Keep the keys free from dust and debris -some types may not operate locks when they get dirty. This Locksmith near Paddington can walk you through everything you need to know to use the lock and keep your home safe and secure.
If you also have businesses like restaurants, fast food chains or hotels, If you're looking for hotel door locks, be sure to check out this website.
Filed Under: Home & Maintenance
About the Author: Jason Prickett loves to write about home maintenance and stuff you can do yourself instead of hiring any professional. His step by step guides will assist you in completing your home maintenance tasks.
Comments (0)