By Cody Riffel on Jun 08, 2010 with Comments 0
---
When it comes to celebrations the one thing which is used in all customs and tradition to decorate are the colorful flowers. They are used to add beauty to the place by their looks and dazzling colors. They need to live a life longer to give grace all throughout the day so nowadays paper flowers are becoming more famous.
In China it is a customary to use paper flowers designed by them to ornate places. And in particular they are used to celebrate the Chinese New Year along with lots of other celebrations with brightly cultured crackers and delighting dance feast.
For any celebration we find a good lot of colors in the Chinese culture. They are experts in doing colorful artistic works and in particular the paper design works. They don't fail to put forth their creativity in the activities they do.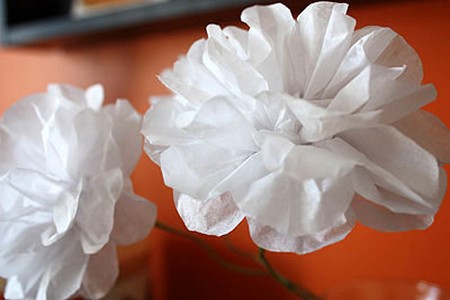 Here are few steps which can guide you in making floral paper works.
The first step is to select the color of your choice. It will be more preferable if you choose bright and darker shades as this will highlight your work. You can either use one color throughout or you can make use of multiple shades. A neat flow of colors will give more impression to the audience than a dull finish.
Then next step is to buy papers. You can look for papers of different variety and texture. Import papers of the selected colors. You can buy crepe papers. All these needs can be found at the local book stores.
You can look for papers which are affordable by the host. Spending more for papers can be limited by adding looks to the flowers designed. As it will equalize the paper quality.
The next step is cutting the papers into shapes desirable for the work. You can make small flowers for which cutting of papers have to be done using smaller folds. If you need big and attractive flowers you can cut it bigger than the usual.
Once you have cut the papers the next step is to fold them to give a look of your choice. You can make use of glue to stick edges of folds. Keeping everything ready will save time in making a complete flower vase.
When you have done with it the next step is to still decorate the arrangements in the vases of flower pots or putting them into ceilings, hanging them all over the party halls.
Thus this art will definitely help you at celebrations at home and do buy such works if you go to china as they are word famous ones.
Filed Under: Arts & Entertainment
About the Author: Cody Riffel is a regular contributor to MegaHowTo. She likes to write on variety of topics, whatever interests her. She also likes to share what she learns over the Internet and her day-to-day life.
Comments (0)