By Jason Prickett on Jun 08, 2010 with Comments 0
---
Everything has to be done in a right way and it works with set up of a table too. Formal mats, and appropriate dinner ware can be used by individuals for any gatherings like parties, a banquet room, weddings. Right colors and right lighting has to be chosen when setting formal tables.
The first step in setting up a formal table deals with choosing a formal cloth. It's quite better to choose a clean and neat table cloth. It also has to be made sure that we have all the wares and glasses and cups as needed. If those things are not in sufficient quantity we may have to buy or rent it more.
The plate has to be kept in position with the chair for the guest to be seated. The plates are to be centered and placed neatly. The plates are not being kept near the table end since it may lead to fall.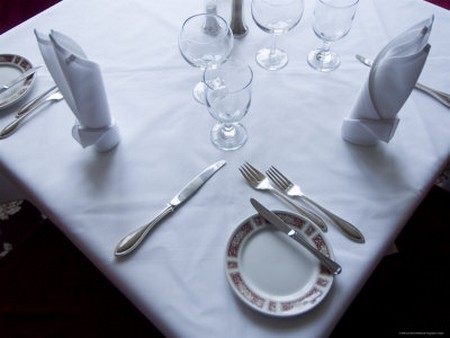 The napkins are kept folded and placed individually in the center of each plate which will be the eating plate
The next important thing on the roll is setting the wares on the table as soon as we have it. Usually the forks are being placed to the left of the plate. The knives and spoons are being positioned to the right of the plate. For example if the salad is chosen to be eaten first then it will be placed first near the dinner fork. It will be quite imperative for the vessels to be used in a trendier manner.
A bread platter is usually placed in the left corner of the plate. This plate is used only if we are serving bread. A butter knife has to be placed on the top corner of the plate and it should face the plate.
The tables that do not have any plates have to be placed with napkins in the place of the plates. Enough spacing has to be left between the utensils so that when the dinner is being served it will be easy for placing the plates. Furthermore ways are also followed in setting up a formal table. In some situations where the wines are being served it will be quite better to bring the coffee cups later during meal time. The table should not be over crowded at any situation and if are in need of any utensils then it has brought only during the time of need.
Filed Under: Home & Maintenance
About the Author: Jason Prickett loves to write about home maintenance and stuff you can do yourself instead of hiring any professional. His step by step guides will assist you in completing your home maintenance tasks.
Comments (0)