By Jason Prickett on Sep 15, 2010 with Comments 0
---
Building a wooden deck can be a bit of challenge so most people would hire deck building professionals to get the job done. But for those of you who are determined to DIY, it's simple if you have a good plan, permitting, framing and time to execute. Here is how you can on construct a wooden deck.
Procedure:
Items Will Need:
SquarePost
Post Hole Digger"
Joist HangerPost anchors
Square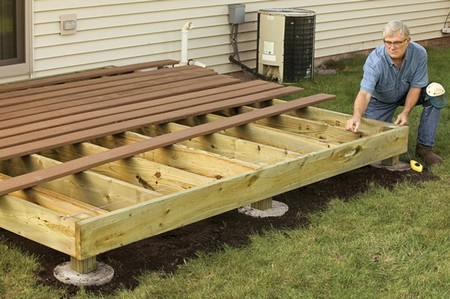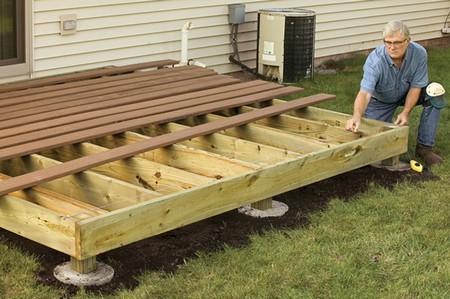 Post Anchor
Bubble Level
4×4 Treated Joists
2×8 Posts
String Level
Measuring tape
Concrete Mixtring level
Galvanized
Step 1
Check your city zoning requirements. Some ordinances will call for set backs, or even no build zones for any side of a property. Set backs will limit the area that you can build your deck in. And see if you need a building permit to get started.
Step 2
Determine where you will construct your new deck. Make sure the water drains well from that area.
Step 3
Draw a plan of the new wooden deck. Start with the dimensions and the location. Add more details as you move along.
Step 4
Determine the foundation. Support your deck with 4 x 4 treated lumber and galvanized post anchors set in 8 to 10 inch diameter concrete footings. Keep your joist span below 10 feet and be sure your foundation is lower than the frost line in your area.
Step 5
Prepare the framing plan and foundation. The details of the foundation and the railing and step dimensions should be set out here. This will show your project meets setback demands.
Step 6
Begin my making a rectangle shaped grid. Use batter boards and strings to construct this step. Measure well along the lines and diagonally to ensure everything is aligned.
Step 7
Use lag bolts to join foundation wall and the ledger board. The thickness and slope of your deck should be considered.
Step 8
Remove debris from the area. Place a black plastic over the area. Secure it with rocks. Put the footings down to the assigned depth with a hole digger. Pour in the concrete mix. Place the post anchors on top before the cement dries. Make sure things are plumb.
Step 9
Put the 4×4 treated posts into the post anchors along with copper post caps. Bolt a 2 x8 joist to the 4×4 postings. The joist hangers need to be spaced 16 inches apart inside the rectangle.
Step 10
Deck framing
Set the joists into the joist hangars with galvanized nails. Install 2×8 blocking in the middle of all joists. Use a 2×2 ledger or toenail attachment to put the stair stringers on the side of the framing.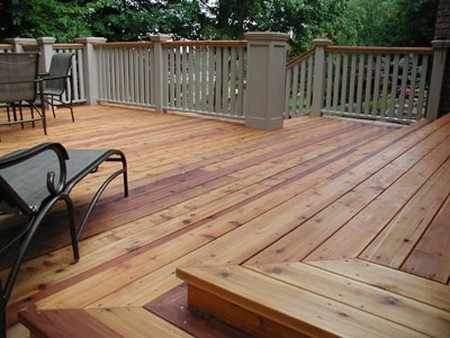 Decking and Railings
Step 1
Install and lag the railing verticals.
Step 2
The decking goes perpendicular to the joists. Space them 1/8 inch apart.
Step 3
Use a line level and shims to make a slope of 1/8-inch per foot for proper draining.
Step 4
Trim the areas that were hanging over with a circle saw.
Step 5
Place trim boards around the perimeter of the deck for a finished look.
Step 6
Allow 1 inch nosing on the stairs. Put in treads and runners, railing balusters and verticals around the edges. Sand all rough surfaces
Step 7
Stain the deck.
These steps should help you build a wooden deck. However, if you don't think you can do the job alone, hire a deck builder to help you. The expert will be precise and will pay attention to detail to make sure that everything is done adequately.
Filed Under: Home & Maintenance
About the Author: Jason Prickett loves to write about home maintenance and stuff you can do yourself instead of hiring any professional. His step by step guides will assist you in completing your home maintenance tasks.
Comments (0)