By Fred Goodson on Mar 08, 2010 with Comments 0
---
Relationship building is an area that should not be overlooked when acquiring a new horse or pony. In our haste to get started with our new animal, we often forget the stress it is under in its new situation. Imagine yourself moving to a new house: it can take a while to familiarize yourself with your new surroundings and neighbors. It is the same for a horse moving to a new home. It has to learn about this new environment, find its place in the hierarchy of a new herd, establish new friendship bonds, adapt to a new daily routine and, most importantly, learn to communicate with and trust a new owner.
Riding
In addition, you will probably be keen to tack up and go riding right away. If the horse is used to being ridden on a daily basis, then starting ridden work immediately can help give continuity to its routine. If this is not the case, then give the horse some time to settle into its new environment.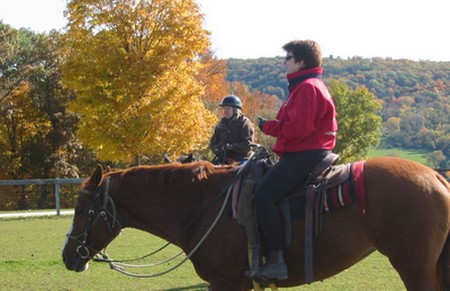 In the stable
Spend as much time as possible with the horse in any activity that involves contact and conversation:
Be with the horse in the stable-this can be just talking to it or mucking out.
Tie up the horse outside its stable and let it enjoy being groomed; pull or plait its mane and tail.
Your objective is to understand and know your horse better, and its objective is to trust you and relax into its new home.
Outside the stable
Try taking the horse for a walk, but for safety reasons make sure to do this in a bridle, possibly attaching a lead rope to the bridle as an additional precaution. When walking, talk to the horse and occasionally stroke it. Be calm and positive in your approach to give it as much confidence and reassurance as possible. If you have any safe areas, let it graze for a while.
In the field
If your new horse is to be turned out, make sure that you have checked the field beforehand. Repair any loose or unsafe fencing, remove any unwanted plants, such as ragwort, and walk around the field looking for any objects that could cause damage. Try to check on your new horse regularly, especially if turned out with other horses.
Try to spend some time watching it in the field—you can learn many things about your horse's nature in this way. You could maximize the use of your time by also doing some mucking.
Feeling at home
These simple ideas can help a horse to settle into its new home, so when tacking up and going for a ride, it will feel at home and familiar with its new environment.
Filed Under: Pets & Animals
About the Author: Fred Goodson has a passion for pets and animals. He has 4 dogs and is planning to have another one. He is also a blogger who writes about pets and animals. Currently, he is living in New Jersey.
Comments (0)