By Jason Prickett on Aug 24, 2010 with Comments 0
---
On the surface it may appear that a pitching mound is nothing more than a pile of dirt pushed together. However, a pitching mound has actual building regulation specifications. You will need to use particular materials to construct a pitching mound as well. A regulation pitching mound is 10 1/2″ in height and 18′ in diameter. Here is how you can build a proper pitching mound. Continue reading below.
Procedure:
Required Materials
rubber mat – 24″ long x 6″ wide
clay
sand
silt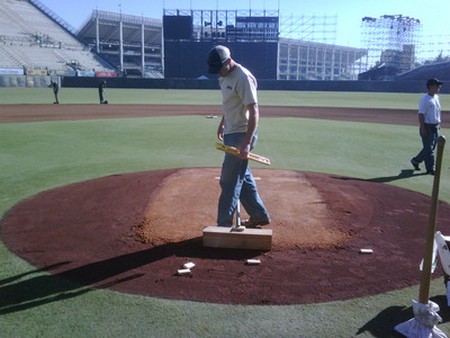 Required Tools
shovel
wheelbarrow
rake
roller press
stakes
string
tape measure
Instructions
Mixing the Material
To construct a regulation pitching mound, layer the ground materials 1 inch at a time. Begin with combining the soil materials with equal parts sand and clay. Use a measuring container to ensure the parts of the mix are equivalent.
Laying the Foundation
Spread the soil mixture over an 18'diameter. Press the soil to 1" in height with a roller press. Measure 10′ from the front of the 18′ circle, mark this spot with a stake. Tie a string to the stake. Measure 17′ from the first stake and mark this spot with a stake. Keep the string taught and walk around the first stake. The stake at the end marks the area. You should note that the back of your pitching mound will have a bigger slope in the finished results. This area should be packed with 1" of mound material. Every inch of mound constructed will be located inward (toward the center) by1′. The final height of the mound will be 10″ from the ground.
The Last Layer
Now to construct the final layer of the regulation pitching mound. Measure 10′ 6″ from the front of the pitching mound. Mark this spot with a stake.  Measure another five feet at the rear of the pitching mound. Mark this location with a stake as well. On your left, place four stakes. On your right, place four stakes. The stakes should be situated at the perimeter of the top layer of the pitching mound. Fill the area with 1/2″ of mound soil material. Roll until firm. After the mound is finished, the plateau will measure 5′ wide and 10 1/2″ from the ground. The slope in the rear should measure an 1 inch per foot.
Placing the Pitching Mat
Measure up to the center of the pitching mound. Place a stake at the center point. Now, measure 2′ from the front of the mound towards the stake use to mark the first point. Align the middle of the pitching mat to this point and place it into the top soil. Enjoy.
Filed Under: Sports & Fitness
About the Author: Jason Prickett loves to write about home maintenance and stuff you can do yourself instead of hiring any professional. His step by step guides will assist you in completing your home maintenance tasks.
Comments (0)