By Vanessa Page on Aug 24, 2010 with Comments 0
---
A patio cover can spruce up your home and can also improve the functionality of your space. In some cases, a patio cover can protect your house by shielding it from the sun's heat. It can also be a great place to relax, enjoy the weather and relieve tension. Building a patio cover is a great way to make your own personal sanctuary and you'll love the finished results. Making your custom patio cover is a challenging but ultimately rewarding experience. But if you think you are not good on making your own cover, there are patio cover construction services that can provide you a beautiful and quality patio covers. You'll just need to contact them. This can be a complicated process so if you don't have much experience you may want to call in professional roofing contractors like the ones from a residential roofing replacement company. But for now here is how you can build your own patio covers. Read on.
Difficulty: Moderately Challenging
Instructions
Things You'll Need: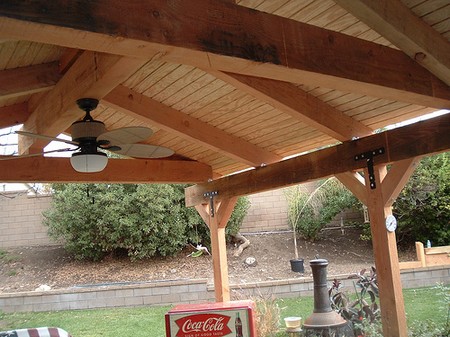 4-by-4 posts
2-by-6 boards
2-by-12 boards
Concrete anchors
Nail gun
Level
Framing square
Plywood
Tar paper
Roof Shingles
Stapler
Metal screen
Drill
1½-inch drill bit
Flashing
Step 1
Decide the size you need your patio to be. Also, establish the pitch of your roofline.
Step 2
Set the posts. Use concrete anchors to secure the base. using
Step 3
Position the 4 x 4 posts on the post base. Use nails to secure then to the post base.
Step 4
Make your support beams. Do this by setting double 2 x 12 boards into your roofline.
Step 5
Mark your rafters off at 2 feet.
Step 6
Follow your roof pitch plans. Cut the rafters and tails.
Step 7
Ask someone to assist you with this step. Cut your ridgeline and set your rafters in proper position.
Step 8
Place a block in between the rafter tails. After every third rafter drill 3 1½ inch holes in the center.
Step 9
Measure a piece of the metal screening and staple it to the inside of each block previously drilled with 1½-inch diameter holes.
Step 10
Install 5/8-inch roof decking. This will take 2 people.
Step 11
Fix and install flashing where the existing roofline and patio roofline intersect.
Step 12
Take the tarp paper and install on roof. Leave a minimum of a 6-inch overlap. Start at the bottom and work your way up. Overlap 6 inches on both sides.
Step 13
Put in drip edge and install shingles and start at the bottom of the roof.
Step 14
Overlap shingles per manufactures instructions.
Step 15
Install roof jack 2 feet on either side down from ridgeline.
Step 16
Finish the underside of the roof by installing sheathing to it.
Step 17
Wrap post base with 1-by-6 boards, cut to length and wrapped close to base.
Filed Under: Work & Careers
About the Author: Vanessa Page works a career counselor in one of the leading firms in Los Angeles. She is also a blogger and gives tips on how people can tackle their work and career issues. She has 8 years of experience in this field.
Comments (0)