By Vanessa Page on Aug 24, 2010 with Comments 0
---
How to Build a Patio
Are you ready to enhance your property? Consider building a patio using printed concrete from Premiumimprint online. A patio is a great addition to any home. It enhances both the appeal and functionality of your house. Having a patio built by a commercial contractor can be an expensive project. Do you have the determination to complete this project yourself? There is a way to build the patio you want but keep the costs affordable; you can even add a heater for the colder months from Bruest Catalytic Heaters. Here is a way to save money by building your own brick patio like how an expert concrete contractor can do it. You can complete your patio project in only two days with some measuring and patience. Read on.
Difficulty: Average
Time Required: 2 days for a small patio.
Here's How:
Measure out the area you want to build your patio in. Choose a rectangle shaped plan. They are easier to do. Measure the diagonal angles at equal lengths to make sure your patio is rectangle.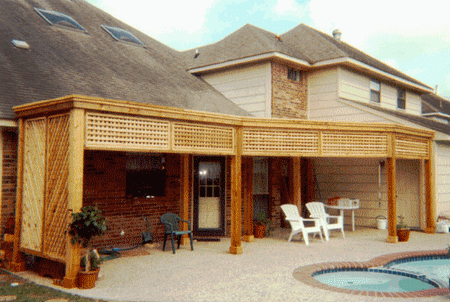 Remove the dirt from the area about 8 inches deep. Use a level to make sure the land slope at ¼ inch per foot. This will ensure water drains away from the patio.
Test the brick pattern before you lay the patio. This will leave you room for margin of error and time to make any necessary correction. Your perimeter should have an excess of about 2 inches to insert brick edging. Place your bricks on end and tap them into place with a rubber mallet.
Remove the bricks you used before to test but keep the brick edging you laid. Add 4 inches of some crushed stone into this framed area.
Lay landscape fabric over your bricks to stop weeds from growing into the patio later. Pour 2 inches of sand over your landscape fabric. Use a long 2×4 as a screed. Pro Care Companies offer the best landscaping services.
Level out the sand using the screed. Begin at the end of the rectangle. The final level of the sand should reach 2 inches below the top of the bricks.
Use excess sand to level any low areas to make your surface even.
Choose a corner to start from and press the bricks down into the sand. Place them closely together and use the rubber mallet to secure the bricks in the sand.
For ease, use 4″ x 8″ bricks, 2″ thick paving bricks. Use the basket weave pattern.
Put a mason's line across your forms as you go along. This will guide you in laying the bricks straight.
11. Pour sand over your bricks. Use a broom to make sure the sand is in between the small cracks and spaces. Take a garden hose and gently spray the surface of the bricks.
Enjoy your new patio!
Filed Under: Work & Careers
About the Author: Vanessa Page works a career counselor in one of the leading firms in Los Angeles. She is also a blogger and gives tips on how people can tackle their work and career issues. She has 8 years of experience in this field.
Comments (0)