By Vincent Carreno on Aug 24, 2017 with Comments 0
---
Building a mousetrap car is a novel idea that has been fun for ages. Building a mousetrap car is both fun and easy. Mousetrap car competitions can be done anywhere. Racing them at school competitions, clubs, camps, or even at home are all great places. A well planned and executed mousetrap car can result in making your design a champion car. There are kits available for purchase on the internet if you don't care to build your own. Designs vary greatly with these kits. Here is a basic design for a mousetrap car that can be used by anyone. It is easily modified and can be improved upon depending on the idea you're trying to accomplish. Here's how you can build your own mousetrap car.
Difficulty: Moderately Easy
Instructions
Things You'll Need:
Mousetrap
Lightweight wood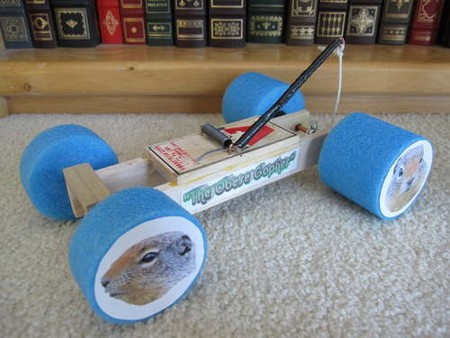 Screws
Eye hooks
Foam board or CDs
Rubber material
Wood or metal rods
String
Step 1
Assemble the chassis. This platform will be the base for your mousetrap car. It will be the main piece that the wheels and any gearing mechanisms utilized in your mousetrap car design will depend on. Choose a wood that is lightweight and can withstand eye hook installation. The eye hooks will be acting as axle carriers.
Step 2
Drill hold in the platform. Drill holes in the mousetrap base. Position the mousetrap on top of the chassis. Then, screw the mousetrap to the chassis. The spring action energy from the mousetrap is the propelling force of your car.
Step 3
Construct the wheels out of lightweight materials. Foam or plastic from old CDs are good choices. Attach rubber bands, balloons or other rubber material as tire tread. The wheels should be large in relation to the axle size.
Step 4
Install the wheels and axles. You can make your axles out of wooden rods, plastic or metal rods. Make sure your axles are not bent and they are balanced. You don't want your car to come apart at take off.
Step 5
Attach the drive string to the mousetrap car. In doing this make sure to leave the part of the string that will wrap around the drive axel loose. You want release when it reaches the end. If the string is not loose it will slow down the speed of your car.
Step 6
Lock down the trap. Wind the string tightly around the drive axel. Allow the mousetrap to release. This will set your mousetrap car in motion.
Tips & Warnings
Use lightweight materials to maximize coasting    distance.
Wind the string tightly around the axle so it cannot slip.
Be careful with the mousetrap.
Filed Under: Cars & Vehicles
About the Author: Vincent Carreno is a cars enthusiast who loves all things about cars and the automotive technology. He is also the chief editor at a local magazine which shares new, exciting and informative articles about troubleshooting car problems.
Comments (0)