By Jason Prickett on Aug 24, 2010 with Comments 0
---
Who doesn't love a gazebo? They can be a great addition to your current décor. Gazebos can come in a range of different shapes, varieties, styles and colors. A Gazebo can be made to fit any decorative preference. Gazebos have long been considered classic and charming. They are a great way to add flare and romantic ambiance to any outdoor front or backyard setting. Gazebos are a great addition and/or improvement to any home landscape décor. They can be used for various things such as social and family gatherings, sharing a meal with that special someone or even just the visual improvement having a gazebo may bring to your home. If you already have a gazebo in your property that requires a makeover, you may start with a roofing replacement, then consider repainting the whole structure or replacing the flooring. Look for professional roofers that can help you install a roof replacement that fits your gazebo's design.
The easiest way to add a gazebo to your outdoor sanctuary is to use a kit. Here is how you can build a Gazebo quickly, accurately and with relative ease. Read on.
Step 1: Place Posts in the Ground
Choose the area you would like to place your Gazebo in. Use landscape paint to mark of where the posts will be and the deck area. You will need to move all plant life from close proximity. Use posthole auger to dig 30 inches below the ground for the posts. Fill the holes in the ground with concrete mix and water after you placed the posts in the ground.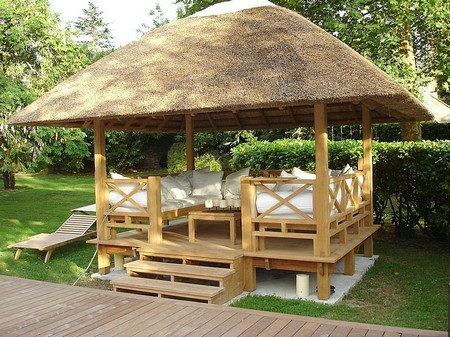 Step 2: Install the Deck Flooring
Next, Use decking screws to connect the posts to the gazebo cedar boards. Where protective eye wear whenever you are cutting wood. Gloves may also be worn. Cedar is a great choice of wood because it is as practical as it is beautiful. Cedar is known for its weather resistant quality.
Give the deck the support it needs. Add joists in the center of the deck. Add a center post and side supports. Each Cedar plank should be attached to the frame with deck screws.
Step 3: Assemble the Gazebo
You have now completed the deck part of your new Gazebo. Now, we have to assemble the gazebo itself and make sure we attach it securely to the flooring that was just made. Purchasing a gazebo kit that fits your personal style and preferences makes the construction go along without a hitch. Follow the manufacturer's instructions that are already included with the kit. You may find that some and gazebo styles also come with their own flooring.  This could lighten your load as well.
Fit the tongue and groove boards together to build the walls. Secure the walls with screws. Then, assemble the roof and add the shingles to help with rain drainage. Attach the gazebo to the floor boards with screws. Finally, and make sure it is sturdy.
Enjoy your new gazebo.
Filed Under: Home & Maintenance
About the Author: Jason Prickett loves to write about home maintenance and stuff you can do yourself instead of hiring any professional. His step by step guides will assist you in completing your home maintenance tasks.
Comments (0)