By Jason Prickett on Aug 24, 2010 with Comments 0
---
When building your won garage, one of the most important components is the foundation. The foundation will determine how stable your garage will turn out. Any structure is as strong as the foundation is and you must take every precaution to lay a foundation correctly. You want to make sure the boards and concrete and straight and proportioned accurately. If your garage door won't go up, the most common cause for that is a broken spring in garage doors, which can be fixed with a simple garage door repair. Double check these as you go along so you are sure if you need a quick garage door repair. Here is how you can build your own garage.
Procedure:
Difficulty: Moderate
Instructions
Things You'll Need: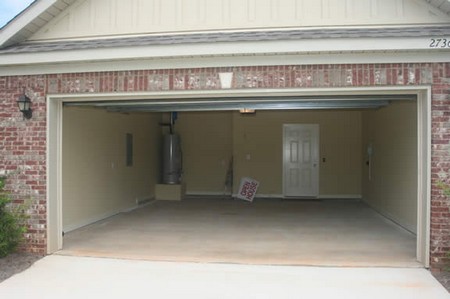 Shovel
2-by-10 form boards
2-by-6 form boards
1/2-inch rebar
Foundation bolts
Non-stick spray
Sand
Vapor barrier
Concrete
Step 1
Decide where you want to build your new garage. Place stakes around the perimeter of the plot. Also, outline the area with lime. Use a can to place the lime in and distribute it along the edge of the space.
Step 2
Dig your footings. Use a shovel to remove the land from inside your plot where you will begin your building. Plan to dig 1 foot wide by 18 inches deep. You should check with your city safety codes and regulations. Remove an extra 2 inches of dirt to allow for sand and vapor barriers.
Step 3
Use 2 x 10 form boards when you are ready to pour the concrete. The outside forms should be positioned 6 inches higher than the finished height of your area. This will make a concrete curb completely around the finished garage.
Step 4
Use another 2 x 6 form board and put 6 inches from the inside of the other form board. Put longer stakes in place to secure the inside form. Line the garage foundation with the forms on three sides. Leave 2 feet on each side of what will be the entrance.
Step 5
Put two #4 or ½ inch rebar horizontally on to the bottom of all footings. Make sure there is a 3 inch margin from the ground to the bottom and sides. Put the same rebar on the top of the footing. Also leave the 3 inch margin also.
Step 6
Put bolts into your foundations. Spray the inside face of the form boards with concrete chemical or diesel fuel. This protects the wood from concrete adhesion. Allow it to dry thoroughly.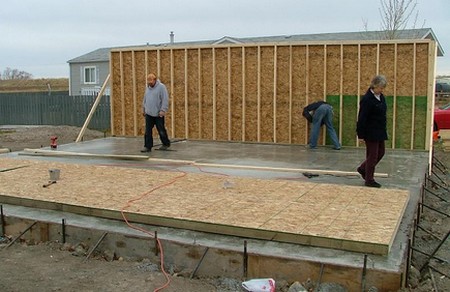 Step 7
Pour 2 inches of sand into the area. Place a 6 mil vapor barrier in the middle of the 2 inches of sand. This stops any moisture from coming through the concrete slab. Rake the sand smooth and lightly moisten with water. Place the ½ inch rebar grid 16 inches on to the center.
Step 8
Pour concrete into the footings up to the stemwalls. Allow to set for 2 hours. Remove the inside form and pour the garage slab. For the flooring, use Garage Floor Epoxy coating to protect the concrete underneath it from stains and seal it from moisture.
Building a garage is not an easy task, especially if you want a custom one. For this task, you will need the help of a professional builder. You can click here to learn about custom garage construction. If you're looking for a garage door to finish up your project, check out these American garage doors. But before choosing your residential garage door make sure that you read this article, Door Type You Should Select for Your Newly Built Garage it will be a great help for you.
Filed Under: Home & Maintenance
About the Author: Jason Prickett loves to write about home maintenance and stuff you can do yourself instead of hiring any professional. His step by step guides will assist you in completing your home maintenance tasks.
Comments (0)