By Jason Prickett on Aug 11, 2010 with Comments 0
---
The following are some instructions on how to construct a bridge:
The Design and Placement:
First determine the type of bridge needed for the current situation. The types are suspension, arch, cable-stayed, truss, and beams. If you are crossing only a short span, then probably just build a small beam or a truss bridge. If you are crossing a deeper ravine, an arched bridge will be the better choice. The bridge to span the ocean bay will require the most expensive suspension bridge.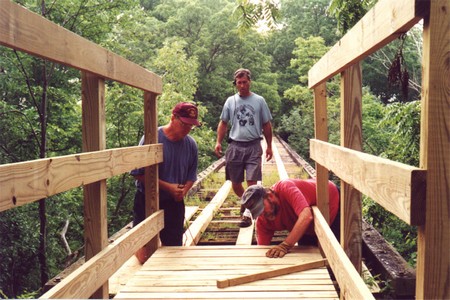 Secondly identify a suitable place to construct the bridge. More legwork goes in for determining the best suitable site to build up anything for it matters, and when it comes for something as costly as that of a bridge, then engineers would be even more careful and cautious. This team will then send many surveyors, who will use up electronic measuring instruments to make a general area map. From this outlined map, the calculations are made and the length and the placements are determined.
Thirdly design the bridge: civil engineering services will note the average potential traffic load that the bridge can hold and will use the ASTM steel designing manuals, drafters and computer programs to aid in bridge's designing processes. The materials that are chosen will also be taken into consideration for the inspection of the bridge.
The Bridge Construction
The Break ground: After the design is finalized and then stamped with the approval, the actual construction of the building begins. This involves the filling or excavation of the banks on sides, stabilizing the ground surface where the supports would be placed and, then depending on the type of bridge to be built, concrete works are done.
Next assemble the steel pieces. Some of the bridges are constructed on site while some are built in pieces that are small enough to transfer them to the desired location and then they are assembled. By using the anchors that are placed in concrete, the steels are put together like the tinker toys using the nuts and the bolts.
Then construct the deck for the bridge. Usually concretes are used for this, but aluminum bars and newly engineered composite materials that can resist corrosion with the help of cathodic protection services are preferred, thereby decreasing the bridge replacement costs.
Now pave the newer bridge. This can be done with the commercial paving machines. If the government agency sponsors the project then this includes the repaving of the nearby surrounding roadways as well.
Last you can have the colored ribbon cutting ceremony. Constructing a bridge is one tremendous accomplishment. After some months or even years of constructing the bridge, dusts can settle down and finally the public can use it.
Filed Under: Home & Maintenance
About the Author: Jason Prickett loves to write about home maintenance and stuff you can do yourself instead of hiring any professional. His step by step guides will assist you in completing your home maintenance tasks.
Comments (0)