By Vanessa Page on Jun 14, 2010 with Comments 0
---
Having a positive attitude in your work environment is important for everyone in the office. It not only increases productivity and efficiency, but a positive attitude is contagious; that is, as one is happy, other people tend to become happy, too. A positive attitude can contribute positive impacts in a workplace.
Wake up and feel happy. Waking up every day and feeling bad about going to work can make the rest of the day follow suit. Instead of feeling bad about having to go to work, feel happy that you have a job. For many it's hard to find a job, especially in today's economic recession. A good mood at the start of the day is likely to extend until the day ends.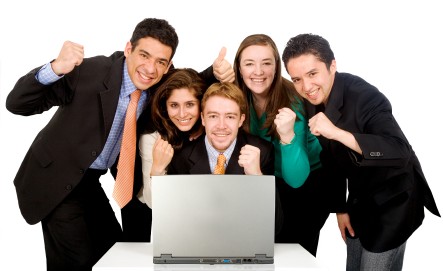 Arrive 15 minutes early. This may be difficult for some, but in the long term being an early arriver can be beneficial. Arriving at the office 15 minutes before your scheduled start time will give you enough time to prepare if necessary, and this extra time will help prevent your feeling stressed and hurried. The additional 15 minutes will also allow you to move at your leisure just before work starts.
Make sure you eat breakfast. If you cannot eat a full breakfast, at least have a little something to fill your empty stomach. An empty stomach can cause you to become stressed and be more lethargic during the day. You will be more productive if you have breakfast before diving into work responsibilities.
Avoid gossip. Offices are often breeding grounds for gossip. Try not to indulge on these things. If you entertain gossip, you also involve yourself in the drama, problems and unnecessary baggage. It's better not to get involved in or create gossip.
Find a good thing about your job. Maybe you are an office cleaner, or perhaps you're leading a team of computer programmers. Regardless of your job, try to see the good side of it. Know that whatever job you have, you are making a difference just by doing it. There is no big or small job, but there is such a thing as big and little performance. So whatever job you have, do it to the best of your ability.
Read a daily inspirational quote. This is a fresh way to start a day. You can get these via a daily calendar, a book or through an email subscription. You can apply the inspirational quote within the day to increase productivity.
Share your positive attitude. Greet everyone you pass in the hall. Smile at your officemates. This is a great way to spread the positive attitude to others. Remember that as a negative attitude is contagious, so goes a positive attitude.
Share achievements and success. If someone praises others for a job well done, recognize their success. If someone acknowledges you for a job well done, share it with the people who have contributed to make the work successful.
Filed Under: Work & Careers
About the Author: Vanessa Page works a career counselor in one of the leading firms in Los Angeles. She is also a blogger and gives tips on how people can tackle their work and career issues. She has 8 years of experience in this field.
Comments (0)