By Vanessa Page on Oct 19, 2010 with Comments 0
---
Hearts Corporation owns Seventeen magazine, one of the most well-known teen magazines that dates all the way back to 1944. It target teens and young women ages 12 to 24. Many famous models appeared on the cover of Seventeen magazine, among them Brooke Shields and Gia Carangi. Models all over the country fight for a place within the pages of the magazine. Despite the tough competition, Seventeen magazine likes to promote new models.
Gain recognition and exposure by participating in the America's Next Top Model reality TV show competition. If you fancy yourself a budding model, consider applying for the competition created by Tyra Banks to promote new talents. You can find information about applying to the show on the official website at http://www.cwtv.com/shows/americas-next-top-model. You will need some professional pictures of yourself, a video that shows your talent, and a few other application requirements. The show holds casting calls in different locations in the U.S., so keep an eye out for the next one and go for it.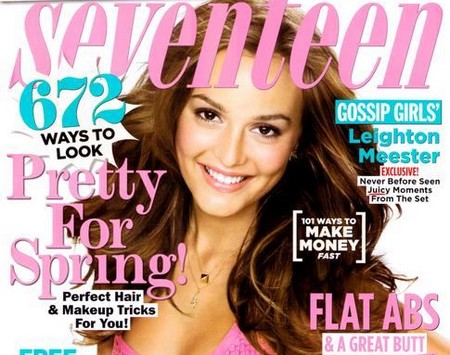 Seventeen magazine holds Reader Model Open Calls from time to time. Read the magazine, visit the website at http://www.seventeen.com/fun/ann/magazine/, and get an idea of what type of models they hire. Go to the magazine's office in New York at 300 West 57th Street on Fridays between 4 and 5 p.m. You don't need to set a prior appointment for open calls. If you're under 18, a parent or guardian must accompany you. Wear an outfit that best represents your personality and proves flattering to your body; also, don't forget to apply a little bit of make-up. Tell the magazine's representatives why you want to become a model, what kind of previous modeling experience you have, and why you think you would make a perfect match for the magazine. You might not have a lot of time to talk to them, so prepare a short but convincing speech.
Try to get an agent or an agency to sign you. These professionals have a lot of experience helping models land jobs and have many more connections in the fashion business. You can learn more about modeling agencies at http://models.com/agencies/. Keep an eye out for open calls, and in the meantime submit photographs to the various agencies' websites. When you talk to an agent or the representative on an agency, tell them what kind of model you want to become and leave your contact information. Different agencies tackle different types of modeling contracts, so if you want to model both for print and television you should consider agencies such as 1 Model Management or IMG. If you manage to get an agent or agency, tell them you would like to model for Seventeen magazine and ask them to contact its representatives for a meeting and potential photo shoot.
Filed Under: Lifestyle & Personality
About the Author: Vanessa Page works a career counselor in one of the leading firms in Los Angeles. She is also a blogger and gives tips on how people can tackle their work and career issues. She has 8 years of experience in this field.
Comments (0)