By Vanessa Page on Oct 19, 2010 with Comments 0
---
Male models don't walk like female runway models. If you want to have the confident walk of a male model, follow these few easy steps so you can walk the runway like a professional.
Learning how to walk like a male runway model proves good from a professional point of view as well as that of everyday life. A runway walk comes across as confident, classy and natural. Male models look "interesting" and know how to make any clothes look good. The first step remains the same regardless of gender; that is, always keep your head straight and look in front of you when you walk. You might have the tendency to look down at the path or look around. Don't do that no matter what happens, as this distracts the public. Instead, practice and learn how to remain completely focused on your walk.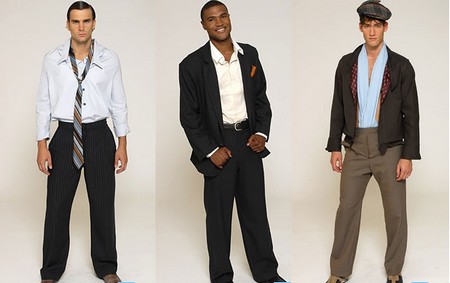 Keep a straight body with your chin just a bit down. Your face should appear relaxed, not frowned or wrinkled with worries and nervousness. Try to breathe naturally, inhaling through your nose and slowly exhaling through your lips. Smiling looks inappropriate on the runway. You might have a great smile, but keep it for after the runway show. Your job is to make the clothes look good, so you shouldn't distract the attention of the public with your face.
Try walking and you will notice that your focus stays on your arms. Don't move your arms around too much, and instead focus on the movement of your shoulders. Pull your shoulders back and keep them that way, but try not to look too stiff. If you have your shoulders in the right position, the movement of your arms will come naturally.
You don't have to walk like a female model with one foot in front of the other. Don't take small steps, but rather long strides. Your foot should always land on the heel, not on the toes. If it lands on the toes it means you have a too-long stride and the walk won't seem natural.
Don't walk too fast or too slowly. Find a line in between and walk like you're thinking about something and plan to get it done. Walk confidently, taking care not to look too arrogant. Appearing cocky might ruin your otherwise "mysterious" look. You won't get the runway-type of walk on the first try. Practice a lot, get a full-length mirror and try every step one at a time. Once you've mastered one step, go to the next one. Practice the runway walk even when you walk down the street. After some time it will come naturally to you. If you need extra help with your walk, search out websites that offer tips and tricks about modeling and online personal training programs such as http://modelchuckryanstrogish.net/.
Filed Under: Lifestyle & Personality
About the Author: Vanessa Page works a career counselor in one of the leading firms in Los Angeles. She is also a blogger and gives tips on how people can tackle their work and career issues. She has 8 years of experience in this field.
Comments (0)