By Vanessa Page on Oct 29, 2010 with Comments 0
---
Food is an important element in our day-to-day life and distinguishes cultural uniqueness. Understanding the kind of impact food can have sets celebrity and famous chefs apart from their lesser-known counterparts. Celebrity chefs play a very important role in culture, but they are not made overnight. To become a famous and celebrity chef, you would need to have the skill, knowledge and personality to bring out the best in what people love: food.
Becoming a celebrity chef requires a lot of study and determination. These people almost always start their careers by going to a leading and credible school such as the Culinary Institute of America, the New England Culinary Institute and the famous Cordon Bleu. By going to these schools, you will learn the basics of cooking, from preparation to serving. You will also learn techniques of food preparation and kitchen hygiene. An expert chef should know all the ins and outs of the kitchen, from what knife to use to the best pots to cook with and where to find the best store to buy the best ingredients.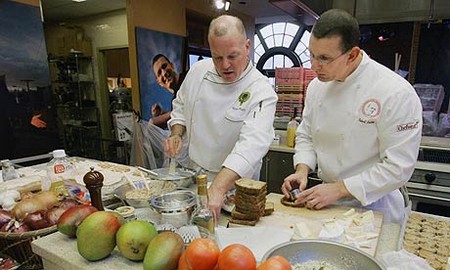 Actual experience can prove a great help in a chef's development. Good schools train students for many hours in state-of-the art facilities. They also have the reputable and experienced chefs and nutritionists on staff.
To become a famous celebrity chef, you should also have the skills to make your dishes presentable and tempting when serving them. Schools like the Culinary Institute of America have numbers of on-campus restaurants open to everyone. This will enable you to practice your skills and present your dishes to the public. Some schools also offer outside internships or on-the-job training in an actual gourmet firm.
To become a successful celebrity chef, you must obtain a job in a reputable restaurant. It may not spell an instant high ranking position but given the exposure a well-trained chef can make it to the top. It will take a lot of practice and patience. Create and develop recipes; a chef who can present new and unique approaches in preparing and presenting dishes is more likely to be a sensation.
Follow the trends; however, you should also have a signature dish that will appeal to everyone. Developing through experimentation remains key to emerging as a famous chef. People love unique and new taste, especially when it comes to exotic food. In most distinguished restaurants, the art of presentation is as important as the taste and flavor. This attracts higher culture and society icons. Keep them coming to surprise and enslave them to this fabulous cuisine and dishes that create an exclusive brand. Make it a place where famous people gather and meet. Get those reviews that will elevate a chef to the top. Endorsements from well-known and respected people will mark the start of stardom.
Publicity remains vital. Food Network must know your brand of dishes and gourmet style. Let them know what the stars think of your own dish. Mesmerize them with your ability to prepare and produce a delicacy patrons can't find anywhere else. Show them what marvelous dishes you can create in almost any theme. Having your own show on a Food Network spells an opportunity to shine.
People can see you on TV as well through magazines, just like well-known personalities such as Rachel Ray, Bobby Flay and Emeril Lagasse. Find your own trademark by creating your style of cooking for certain dishes or delicacies. For instance, celebrity Chef Andrew Zimmen likes to show off his knowledge of the world's most unique cuisine. Find your own star to shine.
Filed Under: Work & Careers
About the Author: Vanessa Page works a career counselor in one of the leading firms in Los Angeles. She is also a blogger and gives tips on how people can tackle their work and career issues. She has 8 years of experience in this field.
Comments (0)