By Marie Mayle on Sep 13, 2009 with Comments 0
---
Food stamp programs are designed to specifically cater to people with low income who needs assistance in their food purchase. Some people are just to shy to apply for one, blame it on the myths that they hear about it such as food stamps being obsolete and all.
Food stamp application is as easy as 1-2-3. First, you need to go to food stamp office within your area. Most of these offices can be easily located with the help of a simple telephone directory. Simply look for titles like "food stamps", "public assistance", "human services" and the like. After you have located the office, all you have to do is bring in the necessary requirements need for you to be eligible, one of which is a social security number of everyone in your household.
If you are applying, you need to give out basic information such ad your income, your rent, your identity, your address and the like. Once you have complied with all these requirements, all you have to do is simply hold on to your horses for a call from the food stamp office for further interview.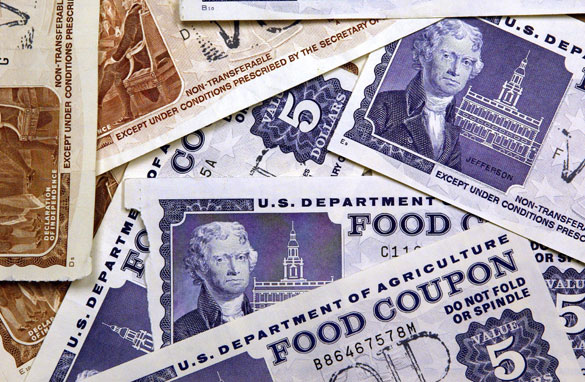 You may have to wait 30 days after the interview for you to find out whether you are qualified or not. After that, you will receive a card that will keep track of your account. The money will be calculated by taking into careful consideration factors like your income, the age of people in your household as well the number of people living there.
When applying for food stamps, bear in mind that each state has different policies and hotlines available. For immigrants who would want to apply for food stamps, there are also different requirements. just make sure that you have all the things needed that way when you go to any Social Security office, all you have to do is simple pass all those and wait for your card to arrive.
Sometimes food stamp application includes a process where the person applying for one will have to watch a short film about food program. All government programs are recorded and wrapped in red tape, food stamp programs is not exempted from these. The important thing is that if you stick to the rules and follow it religiously you will be rewarded by a computer card that will help you manage your finances at home. Let's face it, everybody needs to eat.
Filed Under: Uncategorized
About the Author: Marie Mayle is a contributor to the MegaHowTo team, writer, and entrepreneur based in California USA. She holds a degree in Business Administration. She loves to write about business and finance issues and how to tackle them.
Comments (0)