By Marie Mayle on Apr 21, 2010 with Comments 0
---
For many people, working from home is a lifestyle thing. Gone are the rush-hour traffic jams and missed buses and trains. Instead you only have to wander through to the spare room – sorry, office – and you can always answer the office phone in your jim-jams if you decide to read the papers in bed or just have a lie-in that morning. But experienced home workers have found a few items of best practice to follow.
If, however, you decide you do need an actual office, you will find that it is in fact much cheaper in many ways to start up now. Telephone answering machines, coffee machines and ever-cheaper computing – enabling everyone to do their own typing – have greatly reduced the need for secretarial support. We are much more streamlined these days and this reduces the cost of premises.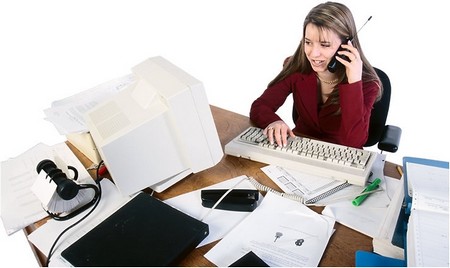 When my partner and I first set up business, we lived in a small flat with no spare room. Within six months not only could you hardly get into the sitting room for papers and files, but also the boots of both our cars were full of office stuff. It is extraordinary how much space you use up to run a business; so allocate yourself the maximum space you can consistent with the family still having a life, rather than the minimum you could manage with.
It is highly desirable to have a whole room for the business. Two main reasons – you are bound to expand, and you need to be able to shut the door on your office at the end of the day. Try not to let things spill over into the living area of the house. I know a couple who work from home each in a separate office. They place their working areas strictly out of bounds for their young children. When the baby-minder is there during the day, they actually communicate with each other by fax and e-mail to avoid going through the living area and being distracted by the children. They believe that home workers need to be even more expert at managing time than office workers, even perhaps to the extent of attending a time-management course. They have strict rules about starting and finishing times. They ban weekend work and generally simulate a situation where their office could be in a different town, let alone building. When the kids are grown up you can be more selfish – one of the great advantages of working from home is you can do your work whenever you want. One of my colleagues, for example, works every Saturday morning and goes fishing during the week when the river banks are quieter.
Filed Under: Uncategorized
About the Author: Marie Mayle is a contributor to the MegaHowTo team, writer, and entrepreneur based in California USA. She holds a degree in Business Administration. She loves to write about business and finance issues and how to tackle them.
Comments (0)