By Jason Prickett on Jan 08, 2010 with Comments 0
---
Getting up on your roof can be quite difficult and risky. As one can imagine, you'll want whatever work is needed on the roof to be done properly with trusted roofing services, so it would be best to call a roofing company and have them take care of things. With the proper equipment and professional experience, you can count on residential gutter installation or roof replacement projects being done properly and promptly, with the added bonus of you avoiding having to risk life and limb. So make sure to hire a professional residential roofing services today like this roofing company in Tontitown.
In some lighter cases however, you might want to get on the roof yourself. For decorating outdoors and for access to roofs or gutters in order to obtain services of Gutter Cleaning in New York, you will need an extension ladder or a platform tower.
Both have their pros and cons:
extension ladders may not be as con­venient or as comfortable to work from as platform towers (which have work­ing platforms measuring about 1.2m square) but they are easier to move about and put up and are much cheaper to buy. However, both can be hired, and some platform towers have wheels which enable them to be maneuvered over hard, flat ground
platform towers should be safer than ladders and more versatile – they can also be used for decorating indoors or as a stair platform or for reaching some chimneys
platform towers dismantle readily but take up more storage room than a lad­der, and unless the frame is aluminum or steel it will need painting from time to time. Extension ladders are normally made of wood or aluminum and require little or no maintenance.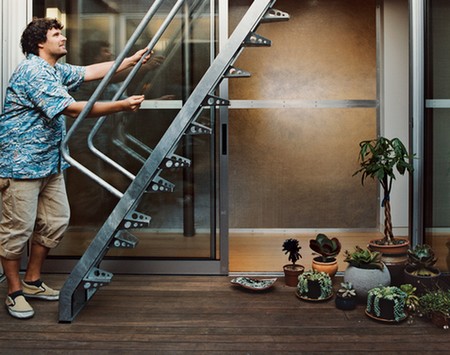 Platform towers
Platform towers which you can buy or hire are made from either aluminum alloy or painted steel. I hey consist of a series of H-frames slotted together to give a square platform generally measuring around 1.3m by 1 3m.
The maximum height for this stan­dard platform tower is 3.6m (1 2ft) out­side and 4.2m inside. Half-width towers (0.6m by 1 3m) can be used up to 2.4m inside, but are not recom­mended for use outside. Greater heights can be achieved by using additional supports (outriggers) or by tying the tower to the building or by hiring a larger size of 'industrial' tower.
Platform towers have diagonal bra­ces to strengthen them, and toe boards and guard rails for the platform to stop things and you falling off.
Platform towers are generally fairly simple to build. With a rope and a hook to help you get the H-frames off the ground, one person could build most 3.6m platform towers in about a quarter of an hour. But it is much easier if a second person helps.
Extension ladders
Most extension ladders sold to do-it-yourselfers have two sections and extend to around 6.3 metres – enough to get to the top of most modern houses. Choose one which is a little over one metre longer than you want your feet to go.
Two materials are widely used -wood and aluminum. Aluminum lad­ders are generally lighter than wooden ones but are more expensive. Choose one with rungs which are flat on top and angled so they are horizontal when the ladder is leant against a wall.
Filed Under: Home & Maintenance
About the Author: Jason Prickett loves to write about home maintenance and stuff you can do yourself instead of hiring any professional. His step by step guides will assist you in completing your home maintenance tasks.
Comments (0)