By Fred Goodson on Jul 02, 2010 with Comments 0
---
When it is winter that is white everywhere then it doesn't mean you shouldn't still walk the dog. Walks, games and sports in the winter, even in the snow can still be great exercise for you and your pet.
If you play with or exercise your dog outside in the winter regularly, you need to increase his or her intake to make sure he or she is getting enough for body fat and nutrition. Dogs burn more calories to stay warm in colder temperatures.
Snow and salt can build up between a dog's toes. This is can cause abrasions and can be unhealthy if licked. Make sure you carefully wipe his feet with a towel every time you come in from outside.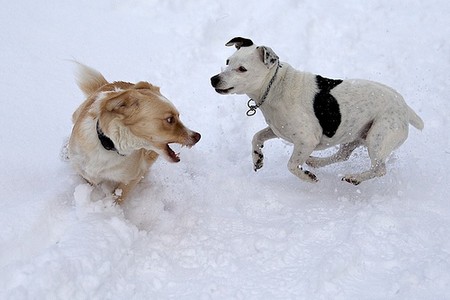 Snowshoeing is by far one of my favorite activities to keep my dogs active in the winter. A pair of snowshoes can cost anywhere between $60 and $200, depending on the brand, type, size, and where you buy them. Just make sure, if you are not going to be hiking on your own property that you find out whether they have leash laws. It's safest for you to snowshoe with your dog off, lead to save you from being pulled down, but only if you can trust your dog to stay close by and come when called. If you aren't sure whether your dog will listen to your commands off lead, you should put a long, light weight rope on your dog and work with them on recalls for a few weeks before going snowshoeing. Once you are comfortable that your dog will follow commands off lead and you know that they are good with people and other dogs, and then you are ready to go!
Also remember ice and snow can create slippery conditions. Dogs can tear ligaments and sprain themselves just like we do. If you think this might be an issue where you walk, do go for nylon or leather boots for your dog to prevent problems.
A dog sweater or coat is a good idea for outings for small dogs, breeds with thin coats, dogs with medical conditions, or very old or very young dogs. Smaller dogs are more susceptible to colder temperatures due to a lack of body mass. And puppies cannot yet regulate their body temperature.
Whether or not you want to get out there, your dog needs some activity in the winter too. Bundle up and get him or her out there at least a few days each week, and you will see the difference in yourself too.
Filed Under: Pets & Animals
About the Author: Fred Goodson has a passion for pets and animals. He has 4 dogs and is planning to have another one. He is also a blogger who writes about pets and animals. Currently, he is living in New Jersey.
Comments (0)