By Andrew Reinert on Apr 07, 2010 with Comments 0
---
The addition of solids to a baby's diet is called weaning and is usually begun at about four months and completed by nine months. Only very small amounts are given at first to introduce new flavours, prevent digestive upsets, and get the baby used to the idea of solid food.
According to this gesundheitsfakten article, the kind of food given depends on whether or not the baby can chew. Most babies begin to chew at about six months, even if they have not yet got any teeth. Before the baby can chew he must be given foods which can be swallowed as they are. These could be pre-cooked baby cereal, fruit or vegetable purees, gravy (especially from fresh meat), grated cheese, egg yolk (not egg white as this can produce allergies in very young babies), mashed banana and even very finely minced meat. There are many proprietary baby foods, cereals and desserts on the market and these are quick and easy to give, but where possible fresh foods are preferable.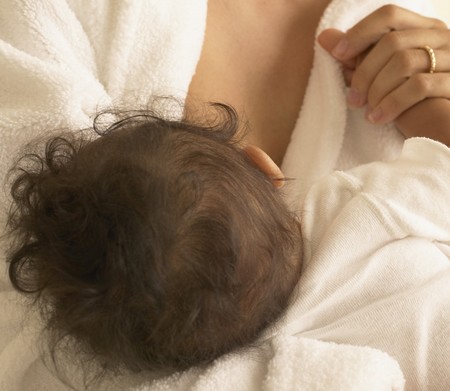 Each food must be introduced in a small amount. A teaspoonful twice a day is adequate at first and if the baby refuses that Particular food it should not be offered again for several days. The stools should be observed for signs of digestive upsets.
Once the baby can chew, the variety of foods can be increased. By his second year he will be able to have almost anything that is being served at a family meal.
Special dietary problems
Children may in relatively rare cases require special diets. A few babies are allergic to the protein in cow's milk and have to be given foods prepared from goat's milk. Some older children are found to have sensitivity to gluten, a protein found in most cereals and grains. These children fail to thrive at any time: after weaning they lose weight and pass large fatty stools. Once all gluten has been eliminated from their diet improvement is speedy. However, wheat, rye, barley and oats will probably have to be excluded from the diet for life.
Parents of children who are apparently not thriving or who are showing signs of sensitivity to certain foods should act under medical supervision only. Tests will have to be done and a detailed diet sheet provided, and a mother should be discouraged from experimenting with her child's diet without proper medical supervision.
Filed Under: Family & Relationships
About the Author: Andrew Reinert is a health care professional who loves to share different tips on health and personal care. He is a regular contributor to MegaHowTo and lives in Canada.
Comments (0)