By Arthur Kunkle on Aug 09, 2010 with Comments 0
---
Everyone likes to maintain the beauty of their home. They want their homes very attractive and beautiful. They want to have some green plants even if they don't have a garden or yard of their own. You can have your own garden with help of containers or pots which will carry plants. Actually it is very easy to maintain plants in pots than in garden. Because if it is a garden, you need to some more work to keep your garden clean and neat. Sometimes you may need to remove unnecessary weeds in your garden. There is no such work if you have them in containers. You can still have a real garden with your containers itself. It is possible by giving the plants with proper water and sunshine and this is to ensure health of plants.
First get the appropriate plants for your garden pots. Plants which love sunshine all the time can be placed nearby your windows. You can get the plants either from garden supply store or from nursery. Carefully get the complete instructions about the plants while buying them. You should also consider your own lifestyle while choosing plants. Water tolerant plants are suitable in humid or hot climate. It will also suitable if you travel frequently so that they don't require more water.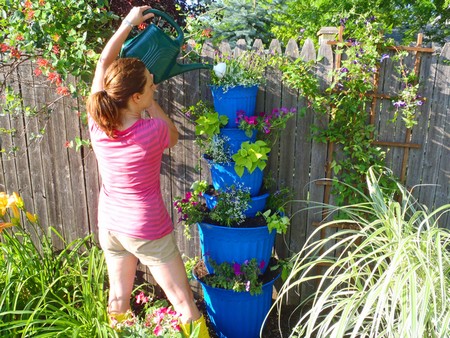 Then get the perfect pots which fits for the purchased plants. You should keep some important suggestions in your mind while buying pots for them. To hold more water, the size of the pot should be bigger enough. This will help you to water them less frequently. Some people like hanging pots a lot. But they are not capable of holding more water. Hence they need to be watered frequently. So you must be careful in buying pots to grow your plants.
Keep some solid material like rocks or stones at the base part of pots before placing plant and planting soil inside. It will help your plants to prevent them from waterlogged.
Purchase moisture absorbing soil in garden supply store to put mixes them with pots. To release the absorbed water in to the soil slowly, get some gardening crystals and place them within it.
Then water your garden containers to grow your plants healthy. When watering your pots, you can use either a small cup or a watering can to do that work. You don't need a hose to pour water to pots since it will only need a bit of water.
Pour the water directly in to the base and roots of the plant. Pour enough water to make the soil moist enough. Don't pour too much water to get it flooded. Stop watering if you see water coming out from the holes of pots.
Filed Under: Uncategorized
About the Author: Greenery always attracts Arthur Kunkle. He has a big garden where he plants many fruits and vegetables. His passion for gardening motivates him to write and share different tips on gardening.
Comments (0)