By Jason Prickett on Jan 04, 2010 with Comments 0
---
The garments that adorn us and add to our external appeal often don't receive the care that they deserve. Most of us just plonk the clothing into the washing machine leaving it to perform the mundane duty of tossing the clothes around and spinning them ruthlessly and drying it harshly. Nevertheless, there are times when special clothes require special attention. There are expensive, sentimental, ornamental, heavily bedecked clothes that cannot be washed in the washing machine. The life of the fabric is boosted if these clothes are hand washed.
Take soap, detergent and a bucket of generous size. Carefully read the washing instructions on the label. Preheat water to specified temperature on instructions. Check clothing throughout for sustained stains. If stains are there, then treat the clothing before washing by a stain remover. Alternatively laundry detergent can be used to gently scrub the clothes to remove the stains. Ensure that the clothes do not leak color while washing. If unsure, wash the cloth separately since it can spoil the hues of the other garments too by leaking color.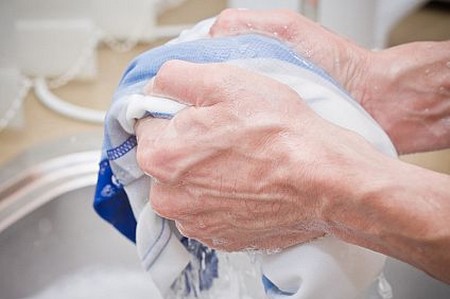 Fill the bucket with the water preheated to the specified temperature and add a small amount of detergent as specified on the instructions on the detergent. Now mix the detergent with the water as to form frothing suds. Put the clothes in the soapy water and immerse them fully. Now mix the clothes around the bucket in a rotary motion, as to ensure all parts of the clothes are subjected to action of the detergent. Make sure you do it for at least 10-15 minutes. See that all garments, which are washed, are paid individual attention. If still grimy, use a soap bar and a cloth scrubber to scrub off dirt, after this you delicate clothing will be ready and you can put it in a Silent dryer to complete the process.
Then rinse till the garment is free from soap and detergent and till the water in the bucket runs clear. Dry up the wet clothes by hanging. Alternatively lay the clothes on a flat surface in open air. Some garments are sensitive to direct sunlight and may fade in color. Go through garment instructions before deciding the appropriate drying method. Indoor drying can also be done or hang with clothes hangers on the outside.
Filed Under: Home & Maintenance
About the Author: Jason Prickett loves to write about home maintenance and stuff you can do yourself instead of hiring any professional. His step by step guides will assist you in completing your home maintenance tasks.
Comments (0)