By Ralph Crutcher on May 10, 2010 with Comments 0
---
Place your children's hands on each side of the board with their thumbs on the upper side. Make sure that their arms are always stretched out, the chin down in the water. On the first round, put your hands over the child's hands. This gives support and helps to pull the child along. If he tends to pull the board in toward his tummy, let the board go with one hand and keep pressing his chest back with the other, so that even­tually he will hold his arms straight again.
As you are walking backwards, keep talking to him to take his mind off what he is doing, and slowly work your hands back until you are just holding the end of the board that is nearest to you. Slowly let the board go altogether and say, "Isn't that lovely? The water holds you up and I'm not even helping." Depending on the child, what follows is either an angelic smile or a desperate "Please hold on to me!" Let him have his way. In the first two or three lessons, it is better to follow the child's instincts, as this is the time when he has to learn to trust you. I always make a point of telling the child beforehand, "I'm going to let you go now."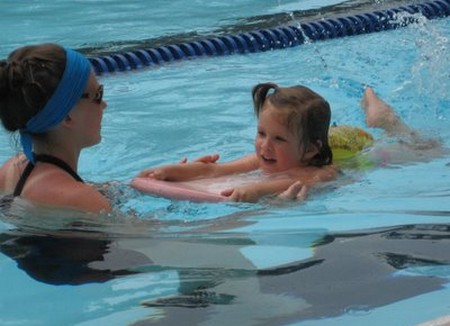 There will be children who will just float aimlessly around—usually the younger ones. It takes a while for them to realize that if they want to move from point A to B, they have to kick their legs to get there. By the end of the first lesson, though, all the children should be kicking around with their kicking boards.
As you are introducing new things like dog paddling, kicking, blowing bubbles, holding air, floating, floating on the back, tell the children each time what they are doing. This way they learn the name of each exercise, and after a while, if you say, "Let's do some floating on the back," they turn around all by them­selves and lean back into your waiting hands.
Filed Under: Sports & Fitness
About the Author: By profession, Ralph Crutcher is a swimmer but enjoys playing football, Golf, and regularly goes to the gym to keep himself fit and healthy. This is one of the reasons; he likes to write about sports and fitness.
Comments (0)