By Bruno Silva on Apr 16, 2010 with Comments 0
---
Metal studs have been used for centuries, to deco­rate furniture and to hold fabric coverings in posi­tion. In the Middle Ages, tables and benches were sometimes covered with leather held in place with studs. By the seventeenth century, when uphol­stered furniture was commonplace, studs not only held the fabric in position, but were arranged to echo the beautiful shape of the chairs. Eighteenth-century chairs sometimes included a simple scal­loped pattern marked out in studs around the edge of the seat. By the nineteenth century, studs had generally been replaced by elaborate trimmings that hid the upholstery nailwork. Nowadays, studs of various shapes and metal finishes are found in most department stores and specialist upholstery suppli­ers and can be used to decorate upholstered chairs and wooden furniture as an alternative to braiding. A plain wide wooden picture or mirror frame looks good with a straight or patterned border of studs. Use a small hammer to tap them into position.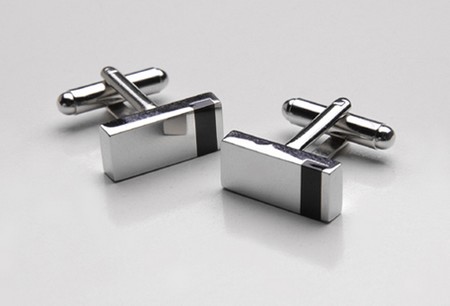 Studding a Cigar Box
You will need:
Wooden cigar box
Small tin of grey emulsion paint
Black marker
Small tin of green eggshell paint 2.5 cm (1 in) paintbrush
Selection of studs
Metal glue
Method
Undercoat the cigar box with grey emulsion paint. Leave to dry for 6 hours. When dry, paint over with the green eggshell paint. Leave to dry overnight.
Using the black marker, draw a design for your studs on the box. In this example, we have chosen initials.
Once you are happy with your design, stick the studs in place. Leave the glue to dry overnight.
Studding a Diary
You will need:
Fabric of your choice
Scissors
Fabric glue
Metal glue
Selection of studs
Method
Open the book and place it on top of the fabric. Cut around the book, leaving 2.5 cm (1 in) border around the edge. Cut a diagonal line across each corner of the fabric border 2.5 cm (1 in) long, making four flaps. Pick up the book and fabric and turn them over. Make two cuts on either side of the spine, 2.5 cm (1 in) deep. Fold over and stick down the two side flaps and then the four top and bottom flaps. Cut the spine flap into a triangle and tuck it into the spine with a dab of glue. You must stick down the flaps when the book is open, otherwise the material will not be spread taut over the book.
Stick on the studs with the metal glue. If you want, you can draw dots with a pen where you want to place the studs.
Filed Under: General How To's
About the Author: Bruno Silva is an entrepreneur from Portugal with over 15 years of experience in Online Marketing. He is also a blogger and writes on variety of topics from online marketing to designs, cars to loans, etc.
Comments (0)