By Cody Riffel on Apr 14, 2010 with Comments 0
---
Most divers soon get tired of having to swim out from the shore. Usually, a boat takes the divers to the dive site. If you need to buy one, check out this options for powersports financing.
Sometimes the boat is quite small, either because the distance is not very great or because a small boat is being used in conjunction with a larger vessel that would not be safe to bring up close to a reef. When divers are picked up after a dive, it makes much more sense to use a small, manoeuvrable boat, some of which are extremely fast.
Divers may travel the short distance in a small boat wearing all their equipment, with tank and fins in place. However, you should not try to get into a small boat from a jetty or a larger vessel with your fins on. You should pass them down before stepping in when the operator tells you to. Try to step across as the vessel rises on the swell, then sit down where you are told to and put your fins on. Fully equipped divers may wear their masks around their necks during the journey so that they can defog them immediately before entering the water. The journey may be a little uncomfortable if the weather is anything more than flat calm. Some boats have the facility to allow divers to don their equipment once they arrive at the dive site.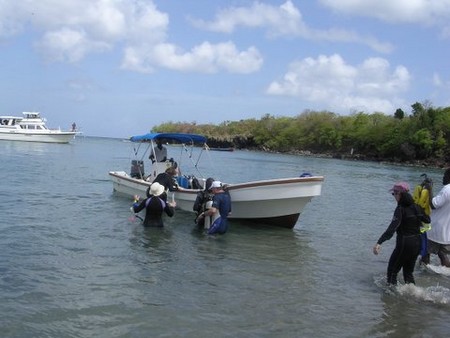 Entering and leaving the water from a small boat
The usual method of entry is to roll backward into the water. This is either done with a number of divers entering together on a count of three or with individual divers going when they are told it is safe to do so. It is important to enter the water at the right place, but you should be careful to avoid other divers. When you surface, you must pay Mention to any instruction given to you by the crew in the boat that comes to pick you up. They may require you to swim away from the reef, where the boat would be in danger of being damaged, and out into deeper water. They will position the boat so that the prevailing wind pushes it towards you rather than away from you.
When getting into a small boat after a dive, it is common to first hand up your weights and any other loose items. After that, with your BC fully inflated so that your rig floats, climb out of your rig and pass it up. If you are familiar with your equipment, you should have no trouble doing this while holding on to the rail or grab line with one hand.
You should keep your fins and mask in place until you are safely in the boat. Some larger inflatable boats and other small dive boats have ladders, which may require you to take off your fins before climbing up out of the water.
Filed Under: Sports & Fitness
About the Author: Cody Riffel is a regular contributor to MegaHowTo. She likes to write on variety of topics, whatever interests her. She also likes to share what she learns over the Internet and her day-to-day life.
Comments (0)