By Andrew Reinert on Mar 30, 2010 with Comments 0
---
Pulling is a releasing stroke used to loosen up a whole area rather than a specific group of muscles and is generally used after kneading. As you perform the stroke you pull against the body weight, so that it moves with your hands. The hands should be kept soft and rounded, beginning the strokes just beneath the body. As they slide up and over, so you release the muscles. Pulling is always done up the sides of the body, rolling the muscles as you work, and can be used to move from one area to another. You can pull the hands, one after the other, for example, at the abdomen, or travel along the body, hands crossing over as you move. Pulling can always be used when you are not sure of your next stroke.
The back
Lean across your partner, placing one hand under the body, just above the hip. Now, keeping close in to the body shape, pull your hand up and back toward you, lifting lightly off at the end. Follow this with your other hand slightly further up. Continue pulling, with hands crossing over, up the back.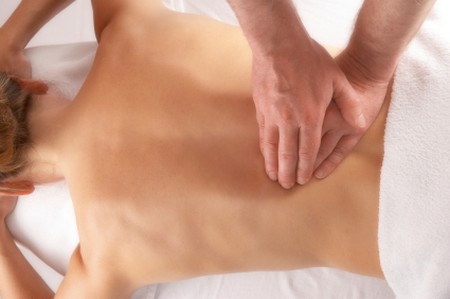 The ribs
Lean forward and place one hand just underneath the ribs. Pull your hand upward and sweep around to the centre of the chest. Follow this closely with your other hand, repeating the strokes several times. End by drawing the hands across the top of the chest and then stroking down the shoulder.
The hips
Lean across your partner. Place one hand under the hip and draw up and back toward you over the buttock, repeating the movement with your other hand. Pull with alternate hands several times. The body should rock with your strokes. Move up and down over the hips. End by lightly lifting your hands away.
The abdomen
Lean over your partner and place one hand underneath the body, between the rib cage and hip. Pull back toward you, drawing your hand over the abdomen. Follow this with your other hand, repeating the movements several times. This feels particularly good the further under the body you are able to reach.
Filed Under: Health & Personal Care
About the Author: Andrew Reinert is a health care professional who loves to share different tips on health and personal care. He is a regular contributor to MegaHowTo and lives in Canada.
Comments (0)