By Jason Prickett on Jun 16, 2010 with Comments 0
---
With the economy in the state it is today, it is important to save whatever you can. One of the best ways to do that is to cut the budget for home improvements. You can do this without compromising the cleanliness of your house for which you can also hire an experts like carpet cleaning omaha. Contact house cleaning professionals if you want your home to be cleaned thoroughly.
The home is a wonderful place. Here, you get to experience freedom, warmth, and emotional security – so, it's not surprising that most people have a deep emotional connection with their homes. So, if you're a home-lover, it's likely that you already work hard to Keep Your Home Safe and Clean!
According to sites like Home Remedy Bathroom Remodeling, the best alternative for market-ready cleansing products is to use home remedy products that are probably already stored on your shelves.
Instead of buying expensive window and floor cleansers, use a dish detergent instead. Mix two tablespoon of dish detergent and dilute it in one gallon of water. You can use this solution to mop dirty floors and wipe down your glass windows. This is a great alternative, plus it gives off a fresh, clean smell.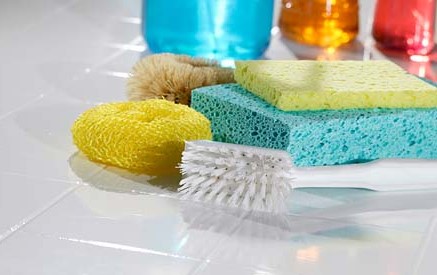 Instead of buying bathroom cleansing products, mix four cups of thyme with one gallon of water. This acts as a cleanser for the mildew on tiles, sinks and bath tubs. Apply this mixture and scrub the area. You can also use toothpaste to clean the sink. This will leave the sink looking new and clean.
If you have utensils and furniture made of chrome, there are several ways to clean them. For instance, you can damp a cloth with vinegar and use it to wipe surfaces clean. You can also soak them in vinegar, or you can mix baking soda and water and then wipe it on your utensils and chrome surfaces. In cleaning ovens, you can wipe the counters and the chrome surfaces with a water and baking soda mixture. Leave it overnight and wipe it clean the next day.
Spray denture cleaner on your toilet bowl and leave it overnight. You can scrub it clean the next day. You will notice this is more effective if you leave it for several hours. Alternatively, drop three capsules of vitamin C into the bowl.
Make an alternative air freshener. You can use a cotton ball and soak it with your favorite scent. Put it in an open container and leave it in your room. You can also rub scented oils on your light bulbs, and the heat from the light bulb plus the scented oil will create fragrance in the entire room. Yu can also mix a scent into your floor cleanser. This will leave your room smelling clean and fresh.
Create your own furniture polish. Furniture polish not only makes your furniture clean, but it also protects it and gives it an invisible cover. To make your own polish, mix one teaspoon of olive oil and one-half cup of lemon juice. Another alternative is mixing one tablespoon of lemon oil to four cups of mineral oil. Wipe these mixtures on the furniture and leave it on.
When you find yourself with loads of trash to dispose call skip bin hire in Canberra for their skip bins for fast and safe waste disposal.
Filed Under: Home & Maintenance
About the Author: Jason Prickett loves to write about home maintenance and stuff you can do yourself instead of hiring any professional. His step by step guides will assist you in completing your home maintenance tasks.
Comments (0)