By Arthur Kunkle on Mar 31, 2010 with Comments 0
---
This pretty cousin of the primrose grows on chalk and limestone grassland and downs throughout Europe and Britain. While it was once a common feature of the countryside in spring, the cowslip has become mote rare because of overpicking and the use of herbicides – it is now a protected plant. The Powers have certainly been picked in enormous quantities in the past, as tin many recipes from the 17th to 19th centuries show. Cowslip flowers were used in making wine, mead and cordials, syrup and vinegar, pickles and conserves, cheese, cakes, tarts, Creams and puddings.
Herbal remedy
Both the root and flowers have been used for centuries for the nervous system. They are relaxing and sedative and can be taken for anxiety, tension, insomnia, stress headaches, and as a general tonic to the nervous system. They have a reputation for lift­ing the spirits and so are recommended for negativity and depression. They are cooling and decongestant, and have been used traditionally for nervous problems associated with excess heat and congestion, such as irritability and hysteria, inflammatory and painful nervous conditions such as neuralgia and neuritis, as well as vertigo. Cowslip syrup was an old country remedy for palsy (paralysis), hence another of its names, palsywort. The Greeks called cowslips paralysio. Culpeper said the flowers could be used successfully to relieve 'all infirmities of the bead coming from heat and wind as vertigo, false appari­tions, phresnies, falling sickness, palsies, convulsions, cramps, pains in nerves'. Cowslips were also used to improve the memory and strengthen the brain.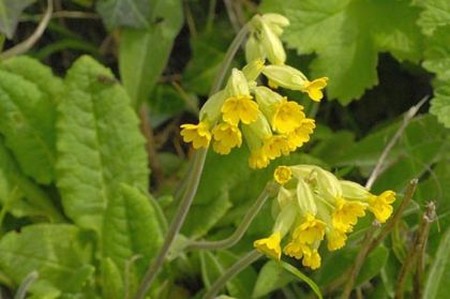 An infusion of the flowers makes a good detoxify­ing remedy, and has a diaphoretic effect, bringing down fevers, and an expectorant action. It makes a good remedy for babies, children and the elderly for fevers, colds, flu, sore throats and coughs. Its com­bined sedative action will soothe dry, irritating coughs and induce restful sleep, very useful when hacking coughs can disturb a good night's sleep. By bringing blood to the surface of the body cowslips relieve heat and also bring out eruptions, explaining why cowslips were an old country remedy for children's measles.
The root is particularly high in saponins which account for the plant's expectorant action, and can be used for chest infections, bronchitis and whoop­ing cough. The salicylates also in the root have an anti-inflammatory action – particularly useful for swollen joints in arthritis and gout. In old herbals cowslip is known as Radix arthritica.
Homeopathic remedy: Primula veris
The same themes run through the homeopathic use of cowslips. They are prescribed wherever there is heat and for symptoms characterized by burning. They have an affinity for the nervous system, useful in headaches, migraine, vertigo, tinnitus, anxiety and febrile excitement. They are specific for 'threatened apoplexy (stroke) arising from psychic depression' (Clarke) and cerebral congestion associated with neu­ralgia, and headaches which are associated with heat in the face and are better from pressure. They also help to relieve hot burning skin conditions, such as eczema, itching scalps, burning pains in the throat and chest, palpitations, cystitis (where the urine smells of violets), burning in the stomach with a tendency to vomiting and diarrhoea, and burning in the joints, particularly the right shoulder joint, and stiff neck and back. The symptoms tend to diminish in the open air, but are worse from stooping, move­ment and being indoors in stuffy rooms.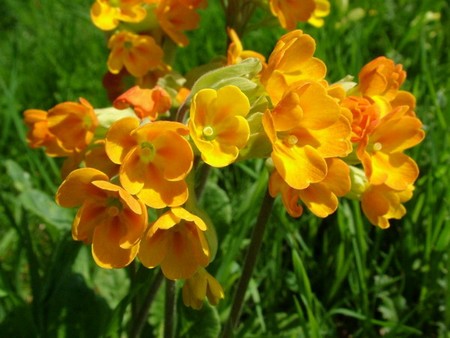 The flower essence
A relative of the cowslip, the oxslip (Primula elatior), which is very similar in appearance, was well known to the Ancient Greeks. It was called dodekatheon, meaning plant of the twelve gods, and was used as a panacea, as a remedy with twelve constituents. The flowers were gathered by the dryads at new moon and administered particularly for melancholy. Cowslip flowers were traditionally woven into funeral wreaths and put on graves, and were worn pinned to clothes as a sign of bereavement. They have been used to ease the grief of separation or the breakdown of a relationship, leading to negativity, depression, grief, loneliness and feelings of abandonment.
Another relative of cowslip, the primrose (Primula vulgaris) is the remedy for both unexpressed and unresolved emotions. It is helpful for seasonal affec­tive disorder (SAD) and also for those who have an unrealistic view of love and relationships. This view can inhibit the development of more grounded, intimate relationships.
Filed Under: Uncategorized
About the Author: Greenery always attracts Arthur Kunkle. He has a big garden where he plants many fruits and vegetables. His passion for gardening motivates him to write and share different tips on gardening.
Comments (0)