By Leona Kesler on Jul 08, 2010 with Comments 0
---
Highly specialized wheat flour which is used for making cakes, cookies and other delicious baked goods is Cake flour. There are many differences between cake flour and wheat flour.
When baking a cake, most cooks aim to create a light, fluffy cake with a tender crumb. This requires flour with low protein content, as protein promotes the production of gluten, which can make baked goods tougher. It also means that the flour must be very finely milled, to keep baked goods from getting heavy. Finally, flour which is starchy and able to hold large amounts of fat and sugar without collapsing is required.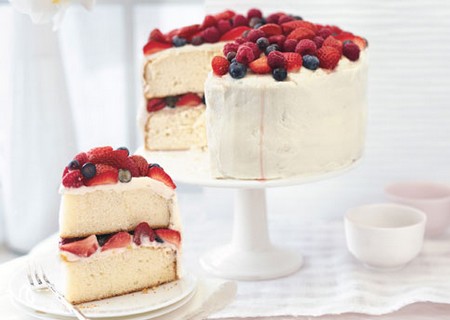 All of these needs are addressed with cake flour, which is made from the endosperm of soft wheat. The endosperm is the softest part of the wheat kernel, making cake flour the finest flour available. As cake flour is milled, it is heavily bleached, not only to make it white but to break down the protein in the flour. Typically, cake flour is around seven percent protein, much lower than other flours; bread flour, for example, has twice that amount of protein.
The delicate, fine texture of cake flour is accomplished by heavy milling. The fine grain absorbs fat readily, ensuring that butter and other fats in cakes are well distributed throughout the batter. Cake flour can also carry a high volume of sugar when compared to higher protein flours. Since cake flour is high-starch flour, it is extremely well suited for certain baking tasks. Cake flour is also lighter than conventional flour, which is why the substitution above falls short of a full cup.
Cookies and cake recipes which call for cake flour should be made using cake flour, if possible. In the production of certain other baked goods, cake flour can replace ordinary flour for a lighter end product, using one cup and two tablespoons of cake flour for every cup of flour called in for the recipe. Cake flour should not be used to make breads and other leavened products, as it is not strong enough. Also, as a general rule, a recipe which calls for "sifted flour" requires the cook to sift the flour before measuring, while "flour sifted" is flour which is measured and then sifted. Since sifting changes the volume of flour, this seemingly petty distinction is actually very important.
However interesting it might be to know what cake flour really is, I managed to also find a substitute for it, which might be a bit more interesting for you if you want to use a recipe which uses cake flour.
Filed Under: Food & Cooking
About the Author: Leona Kesler is a head-chef at a very popular food restaurant in New York. Also she is a blogger who shares her experiences, tips, and other informative details about food and cooking. Her recipes are featured on many magazines.
Comments (0)