By Cody Riffel on Apr 14, 2010 with Comments 0
---
Day boats and live-aboard vessels
There are some advantages to diving from a larger vessel. As long as the boat fuel tank is full, you can go farther from the mainland, and the journey is usually very comfortable. With sufficient supplies of air and food, a larger vessel allows you to have meals on board and stay out all day. Also, dive sites beyond the range of the small boats are accessible to larger boats.
On most larger boats, there will be a lounge where you can relax in between dives and during the journey. There is also somewhere to stow all your dive gear until you need it.
You may dive from the swim platform at the back of the vessel and return to it by climbing the ladder provided. Or you may need to transfer to a smaller boat for the last part of the journey to the dive site. Sometimes, you will do a combination of the two, entering the water from the main vessel and getting picked up by a small boat later when you surface.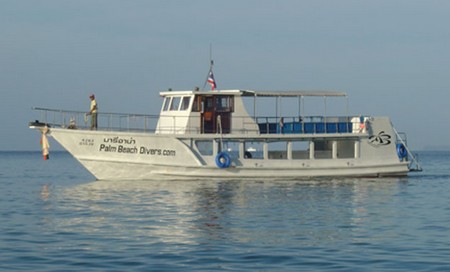 Some dive boats have cabins to stay in overnight. These live-aboard vessels are usually larger than day boats, but not always. They are like a home away from home and have everything you need on board. Live-aboard vessels give divers the opportunity to reach more unusual destinations.
The cabins nowadays usually have twin beds rather than bunk beds and en suite showers and toilets. The food is often very good, cooked in a properly equipped galley and eaten in a spacious lounge. Often, there are sundecks for those who want to get a tan.
Diving facilities
The passengers' diving equipment is usually kept at a dive deck at the stern of the vessel. There, you'll find your BC and regulator permanently mounted onto a tank and ready to go at a moment's notice. Normally, your mask and fins and other equipment are stored in a box under the seat next to your tank, while your wetsuit will be hanging on a rack.
In some areas, including the Maldives, the main vessel works in conjunction with a second large boat that keeps all the diving equipment on board.
A live-aboard dive boat will normally have its own compressor for supplying air (and many can mix and supply nitrox).
Getting around
The itineraries of diving trips are usually scheduled so that the boat travels the longer sections of the route during the night. This means that when you get up in the morning you can dive in a different location at first light.
These early morning dives are often the best of the day because it is at this time that the larger predators hunt on the reef before retiring out into deep water once the sun has fully risen.
The number of passengers on a large diving boat can vary from 6 to 26. If you choose to take part in such a trip, you will spend most of your time in close proximity to your fellow divers, so you need to be able to get along with them. Most groups bond fairly quickly because everyone is there for the same purpose – to go diving!
When you're ready to sell your boat, our team can help you get the best deals on quality new and used yachts. Multihull Central will work with you to determine the right marketing strategy for your boat and create a custom listing that highlights all of its best features. They also have a large database of potential buyers, so they can match your boat with the right buyer quickly and efficiently. Also they can display your boat on any of their centres located at Sydney Harbour, Manly Boat Harbour Brisbane or in New Zealand.
Filed Under: Sports & Fitness
About the Author: Cody Riffel is a regular contributor to MegaHowTo. She likes to write on variety of topics, whatever interests her. She also likes to share what she learns over the Internet and her day-to-day life.
Comments (0)