By Alan Kennon on Oct 06, 2010 with Comments 0
---
Are you an all around sportsman who enjoys a good hunting chase? Turkeys can be a hard catches if you are not sure what to do. If you want to become good at hunting turkeys, you will have to learn how to do a few things. One of them is learning how to do a turkey call. Some think turkeys are not smart birds, however, some wild turkeys will not be such an easy kill. You'll need lots of practice, a sharp eye and good aim if you want to take one of these homes as dinner. If you learn how to do a decent turkey call, and practice you'll be a great hunter in no time. Here is how you can use a turkey call. Read on below for more information.
Instructions:
Step 1
Visit the sporting store near you. They should be able to let you hear a variety of different turkey calls. If you're just starting out, use a box caller. They are usually constructed from wood. However, if you find one that is made of aluminum instead, you can use it in all weather conditions. The face of the call box needs to but lift to form a call out in the wild.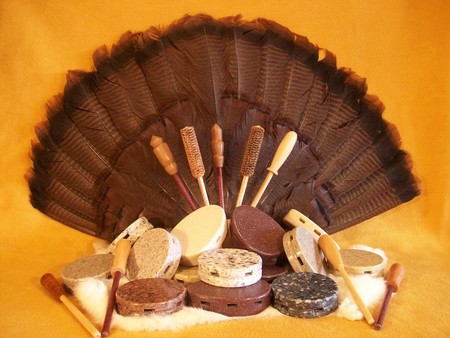 Step 2
You can make an attempt using a slate call. The face on the call is made into a circle and there is a striker that hits the surface creating the unique call. The sounding mechanism may be constructed of a separate material than the striker. These calls produce some of the most authentic sounds. There are different varieties you can look into and choose.
Step 3
When you are confident you have learned the different types of calls that attracts turkeys, graduate to the diaphragm call. This one is not an easy call to execute. There is a reed and a frame that is placed into the mouth. While you may have the use of your hands, you'll need practice with this call.
Step 4
Attract the game by sending out calls as close to mimicking them as possible. You should hide your position and call the turkey to you within a clear firing distance. You can combine calls to help you lure your prey into gunshot aim. A good hunter can adapt as needed to get the kill.
Step 5
Practice all of your various calls a few weeks before you plan to hunt the turkeys. When you practice, it will become natural when the time is right. You can enter contests to tests you skills. This will also help you figure out how authentic your calls are. Be patient with your turkey hunting it may not go well the first time. Try again as needed.
Filed Under: General How To's
About the Author: Alan Kennon lives a very happy life with two kids and a lovely wife. He likes to share his life time experiences with others about how they can improve their lifestyle and personality.
Comments (0)