By Bruno Silva on Oct 13, 2010 with Comments 0
---
A saw bench or a table saw is an essential tool, for cutting or shaping any wood material. It has circular blade, which is mounted on the arbor. It would be driven by the electric motor. This electric motor would be directly connected to the blade, or even using some types of conveyor belts. The blade would move on the surface of a table, which would provide support for the processing of cutting the wood.
There are many types of saws, some are contractor table saw, bench top table saw, hybrid table saw and cabinet table saw. There are different tools which are required for the process. They are, dust masks, table saw, work gloves, push sticks and the safety goggles. The first step for this process is to make sure that you have selected the correct blade which is properly tightened and seated. Avoid using the blades which are dull, this would lead to overheat and bind.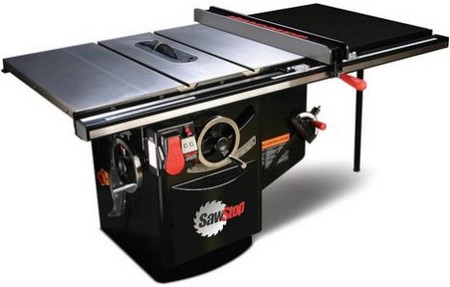 The next process is to look the blade guard. It should function properly and should be in good shape. The blade should also in proper alignment. The blade has to be kept in high height. If so, only few teeth would be required. If it is placed low, then there would be a high potential kick back. Then check for the wood which is used; see if there are any nails or knots. If so, then it should be avoided. They could be dangerous, so it is better to avoid them.
Stand in the side, to start the blade. While you doing this, your feet should be in the ground firmly. Don't try to push the wood piece fully into the blade, put it inside with little pressure. Make use of the sticks provided, to push the wood. Don't use your bare hands. Press the work strongly, (i.e. the wood) against the blade and do the process required.
Always make sure that the blade is used with the blade guards. Once this is done, the blade can be removed from the wood. Look through the safety measure and the rules given in the user manual. After finishing the work, keep it covered on the table. The supply to the blade, should be turned off, when the performance is carried out. The same should also be done, when the blades are changed.
The fingers should not advance in the way of the blade. Do pay full attention to the work, other wise this equipment would cause serious injuries. Always wear glasses, to keep your vision clear, while you are working. The other parts like the ears and the nose should also be covered from the sawdust.
Filed Under: Featured • General How To's
About the Author: Bruno Silva is an entrepreneur from Portugal with over 15 years of experience in Online Marketing. He is also a blogger and writes on variety of topics from online marketing to designs, cars to loans, etc.
Comments (0)