By Jason Prickett on Aug 03, 2010 with Comments 0
---
Privacy concern is major issue faced by almost any company or professional doing good in the market. People all over are eager and waiting like a hungry lion, to get that one chance or lead that could lead them to any piece of information letting them know what they shouldn't be knowing in the first place at all. This may include anything related to private business information such as details of a deal, customer addresses, bids or account details or in case of an identity theft, credit or ATM card numbers, date of birth etc. The solution to stop all this is a small but one genius invention-The Paper Shredding Machine.
As we look at the development in the machines make, we will see that the shredder actually ranges in a lot of types. The types happen to be defined by the shape in which the paper is cut out when put into the machine; strips, small bits and pieces of confetti, simple grounded paper etc. This had to happen because over the years thieves started taking the pain of going through all the shredded strips and putting them back together to get the information they wanted to steal.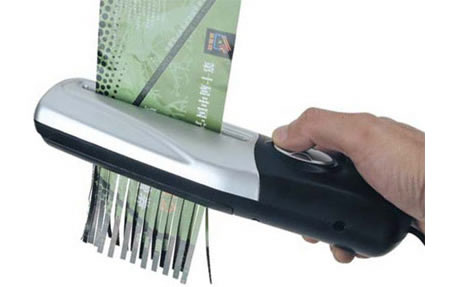 There are basically 2 types of paper shredders available in the market right now- the manual ones and the digitally touch activated ones. Following are a few tips to manage a manual paper shredder as the digital one is fairly quite easy to use.
Once you have paper shredder at hand, look into its guide to get to know about all its buttons and switches. There will most probably be an on n off and a back n forward switch. Then place a trash can near the machine as to allow it to pass on the shredded paper into it. Some machines have openings in the side with an inclined plastic sheet while others have an opening at the bottom or can be attached to a plastic bag directly.
Next, look for the insertion slit. Find out what is the maximum thickness of paper sheets that you can put in at one time. Also make sure to take off any stapler pins or any other kind of paper pins because I am sure you don't want it to get stuck and jam the machine or cause any damages to it.
It is always sensible to put in paper that is somewhat less than the thickness mentioned because then it might get stuck halfway in the machine and would have to be taken out using the backward button. Do not force the paper inside; the machine will slowly keep eating it up itself. Once the shredding is done, clean up the trash can or the garbage bag.
For added safety always keep infants away from the machine as their little fingers that can fit into the slits can turn on an already switched on machine an cause a scene.
Have a commercial trash removal take care of the disposal of your trash. They can make sure that the shredded remains of your documents are thrown away properly.
Filed Under: General How To's
About the Author: Jason Prickett loves to write about home maintenance and stuff you can do yourself instead of hiring any professional. His step by step guides will assist you in completing your home maintenance tasks.
Comments (0)