By Fred Goodson on May 07, 2010 with Comments 0
---
One of the most useful pieces of equipment to purchase is a cat flap. It will save a great deal of time and energy if you intend your cat to have the use of an outside cat run or garden. Crime prevention officers advise that the cat flap should be situated at least 2 feet away from your door lock.
Equipment
Cat flaps range from a four-way lockable flap for use in glass doors to a deluxe type with a tunnel suitable for easy installation. An electronic model (operated by your cat's collar which contains an electronic device) will prevent other neighbourhood cats from sampling your hospitality. Some models come with a lock which is useful for restricting your cat's freedom.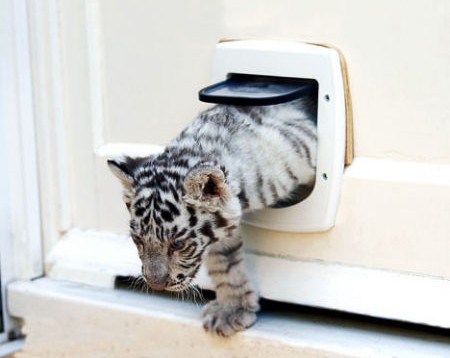 Ideally, the bottom of the cat flap should not be more than 6 inches (15 cm) from the ground to allow your cat to walk through the flap, rather than jumping through it. An average size is 7.5 in x 9.5 in, but a cat weighing over 14 lbs may need a larger entrance.
Training Objective: To enable your cat to go in and out at will, without having to ask for your assistance.
Training Steps
Prop the flap open, and entice your cat to walk through it by showing him some of his favourite food. Encourage your cat to eat the food reward once he has passed through the door.
Repeat Step 1 a few times, until it is obvious that this lesson has been mastered.
Encourage your cat to push with his head against the flap to open it, so that he can see and smell the food reward on the other side. Once your cat has walked through the flap, offer him the food reward.
Show your cat his food reward again, put it outside the flap and then call the cat to walk through the flap to receive his reward. If you have a dual cat flap, train your cat to walk through from the outside to inside your home. Remember to give plenty of praise, and soon the cat flap will become your cat's preferred method of entry into your home.
Filed Under: Pets & Animals
About the Author: Fred Goodson has a passion for pets and animals. He has 4 dogs and is planning to have another one. He is also a blogger who writes about pets and animals. Currently, he is living in New Jersey.
Comments (0)