By Jason Prickett on Aug 09, 2010 with Comments 0
---
Fan is an important appliance for everyone to get cool air during hot days. If it gets repaired suddenly, then you might think that you have been trapped in some place like Sahara Desert. The only appliance which helps to keep your room cool down is nothing but the ceiling fan. It helps the air to circulate inside non ventilated area. If you are in emergency condition, then you may not able to call your repairman too. Hence it is better to know some ways to repair by yourself. It is also a sort of money savings.
The following tips will help to find a repair man in you. First you have to check all the available fan controls in your home. It includes your fan's remote control and the switch. Then verify the mobility of the switch. Check if it is turning smoothly as it did before. If it is not working as before then the problem occurs due to your switch. Then you can call a professional to repair it. Because you may broke the switch into pieces. Also try for the working of remote control. Batteries may be the reason for their condition if they are not working. Just replace the batteries and make a test to it again. If the batteries are not the problem then you have to open the remote control to repair it.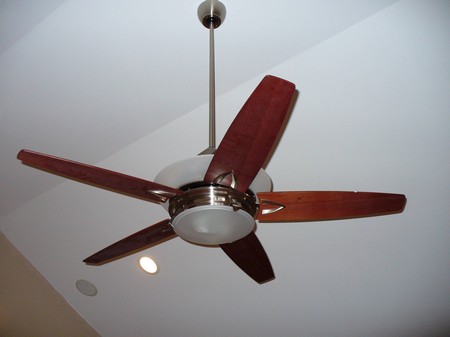 In some cases both of your fan and light may not work properly. You can just verify the connections given to them. Before going to troubleshoot switch off your fan or else switch off your home completely for better options. See for any loose connections and use electric tape to cover it up.
For power supply problems check for the working of black wire, because it connects the motor with the fan. If it is not connected properly then there will no power supply to fan.
The other problems may arise due to the blades and check them too. Turn the blades and see whether they are turning smoothly around. If they are not doing well, then put some oil or remove the dirt around them. Then they will work.
Sometime your fan will work properly but it will turn slowly. Then check for the capacitor in it. Some fans have split capacitor motor permanently. If they get older they will run slowly and this may be the reason for that.
Then check for wobbles and there is any weird vibration. If there is vibration it might have been occurred due to a slower motor. It will results in slow running of fan due to its unbalanced blade proportion.
Filed Under: Home & Maintenance
About the Author: Jason Prickett loves to write about home maintenance and stuff you can do yourself instead of hiring any professional. His step by step guides will assist you in completing your home maintenance tasks.
Comments (0)