By Andrew Reinert on Nov 12, 2010 with Comments 0
---
Acupuncture, a Chinese technique developed over centuries, involves acupuncturists using the method to treat different medical conditions. Acupuncture is also used as a facial rejuvenation method as an alternative to the more aggressive and expensive cosmetic surgery solutions. Cosmetic acupuncture helps people get rid of wrinkles or brown age spots on the skin. If you have the means to try injectables for wrinkles, you may talk to an expert at ReVive RX Med Spa.
Analyze your skin type before discussing your wishes with an acupuncture therapist. Observe your skin over a period of time and establish whether it is oily or dry. Also make a list of all the skin products you use. Think about what you would like to change about your skin, whether it is the texture, the wrinkles, the firmness, etc.
If your wrinkles are very deep acupuncture might help, but there is no natural method that will make your skin look young again. If you are over 45 and your skin shows signs of aging, acupuncture will help. Facial rejuvenation acupuncture will not do wonders if you are over 70.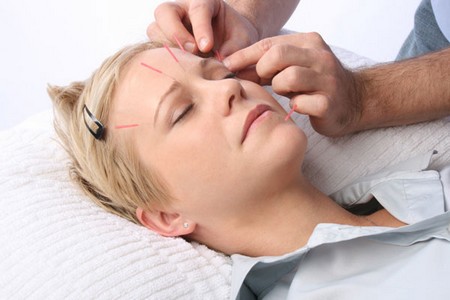 Find an acupuncturist who specializes in cosmetic treatments. Visit the Acufinder website for a list of acupuncturists in your area at http://www.acufinder.com/. Make sure the therapist you choose holds a license and makes you feel relaxed and confident. You have to trust the method and the therapist in order for it to work.
The primary principle of acupuncture is that all parts of the body connect through meridians. The acupuncturist will insert up to 30 or 40 needles in various parts of your body—mostly your face and neck, but also your hands and feet. Acupuncture stimulates circulation, triggers the secretion of specific hormones, restores the energy flow in the body and boosts the immune system.
Acupuncture is not painful. You will feel a slight sting when the acupuncturist inserts the needles, but nothing about the process should prove uncomfortable. If you feel any pain or discomfort, tell your therapist. A facial rejuvenation acupuncture session lasts from one-half to one hour or perhaps even longer. Clear your schedule and relax. Acupuncture will make you feel so relaxed that you might even fall asleep. You will spend this time on a massage table in a quiet and peaceful atmosphere.
Acupuncture triggers the release of elastin and collagen in the skin, substances that give elasticity and youth to it. With age the secretion of elastin and collagen decreases, which leads to the appearance of wrinkles. Protect your skin from further damage by staying out of the sun and wearing sunblock.
Follow the treatment suggested by your acupuncturist. One session will not be enough to get visible results. An acupuncture treatment involves more than 10 sessions, depending on the response of your body and the results you want to achieve. Even after finishing the initial treatment, go back for an acupuncture session from time to time to prevent the formation of new wrinkles.
Filed Under: Health & Personal Care
About the Author: Andrew Reinert is a health care professional who loves to share different tips on health and personal care. He is a regular contributor to MegaHowTo and lives in Canada.
Comments (0)