By Andrew Reinert on Mar 28, 2010 with Comments 0
---
A sprain is the tearing or pulling of the ligaments that support the joints. It is usually caused by the sudden pulling or stretching of the joint beyond its normal limit, such as during a fall. The wrist or knee can suffer sprains, but the ankle is most commonly affected if the foot lands badly or buckles over. A sprain will cause the ligaments to bleed if torn, and swell, leaving the child bruised and in pain.
What you can do
Check to see whether the joint seems broken. If you are not sure, take your child to an imaging services in case an X-ray is necessary. If the knee or foot is affected, your child won't be able to put any weight on it. The affected joint should be slightly raised, so prop it up on a stool or pillows. Apply a cold compress as soon as possible to help reduce the swelling and renew every ten minutes for the first few hours and then every few hours. Cover the area with thick wads of cotton wool and bandage up the sprain, by binding carefully, but not too tightly, in figures of eight.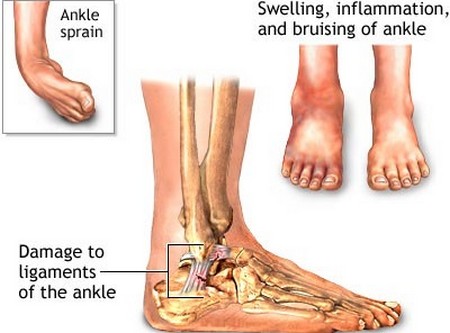 Treatment
Aromatherapy
An aromatherapist may recommend a foot-soak, for instance using Sweet Marjoram, known for its anti­inflammatory and analgesic properties, and Rosemary, which works well for conditions such as sprains that suffer spasmodic pain. Add a couple of drops of these to a bowl of cold water and soak the affected joint for fifteen minutes. A cold com­press may also be made up using the same solution and be held in place with clingfilm.
Homoeopathy
Arnica may be recommended by a homoeopath to help halt the swelling and reduce the pain as well as the feeling of shock. This may be followed by Rhus tox., if the pain is due to a fall and the joint feels stiff and painful. Bellis perennis also works well on swollen and painful ligaments, particularly if they occur on the left side of the body.
Reflexology
If a foot was sprained, a reflexologist would not try to work on it, but would use pressure on the hand instead, relating to the injured area. Treatment would include help­ing the child deal with the shock and anxiety they may be feeling after a bad fall. Work would be gentle so that the area does not become overstimulated.
Chiropractic
A chiropractor would recommend that if a frac­ture or dislocation has been ruled out, then rehabilitation of the sprained joint should begin as soon as possible. They may recommend passive mobilization for the first few days to pre­vent the joint from stiffening. They may use mobilizing and manipulative techniques according to the joint affected and supervise the introduction of rehabilitative exercises to restore the function of the injured joint. The child should only put pressure on the joint and soft tissue work should only be started once there is no risk of disrupting any intermuscular bleeding or injured ligaments.
Other therapies that may be beneficial: osteopathy, acu­puncture, acupressure, biochemic tissue salts, Bach Flower Remedies.
Filed Under: Health & Personal Care
About the Author: Andrew Reinert is a health care professional who loves to share different tips on health and personal care. He is a regular contributor to MegaHowTo and lives in Canada.
Comments (0)