By Jason Prickett on Jan 13, 2010 with Comments 0
---
There is much more veneer around than you might think. Before the days of manufactured boards, pine was often overlaid with mahogany as an inexpensive way of making expensive-looking furniture. If it is chipped or blistered, it will be easy to identify as veneer, but if it is still in good condition, you can tell by looking for the telltale thin edge at the back of, say, a chest of drawers, or checking inside a cabinet or under­neath a table to see whether the grain and colour of the wood are different.
Older items will be glued with animal (scotch) glue, which can be softened and made to stick again with heat. If the veneer has lifted at an edge, try to see if the glue is crumbly and crystalline by poking it gently with a thin blade. If it is granular, scrape it out as far back as you can without splitting the loose piece and scrape the 'ground' – the base wood – to uncover a raw surface, then slide a blade or piece of card with some white (yel­low) glue on it to coat both surfaces, and clamp it with a G-clamp. If the glue has not broken up completely, heat it gently with an iron through several thicknesses of brown paper (not newspaper). Keep testing as it softens and once it has become sticky, clamp the loose piece down.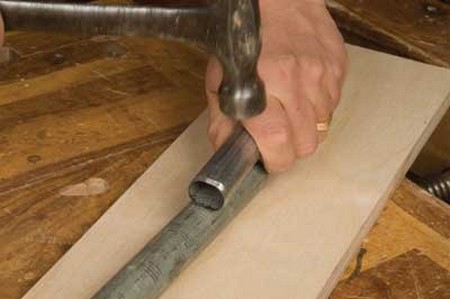 Blistering or bubbling in the middle of a surface is another common phenomenon. If the veneer is not chipped, cut it with a razor-sharp blade like a scalpel, from edge to edge of the lifted part. Try the iron and brown paper first; roll the veneer flat and weight it down to set with a heavy weight on some greaseproof paper. (This will stop the weight sticking to the veneer and pulling it up again when you take it off.) If the old glue does not work, you will have to scrape it out and reglue. Be as delicate as you can – veneer is brittle at the best of times, and it is going to be messier if you break a piece and have to glue that as well. Slide the new glue in with an artist's palette knife or something similar. When the glue has set, sand it smooth and refinish.
Filed Under: Home & Maintenance
About the Author: Jason Prickett loves to write about home maintenance and stuff you can do yourself instead of hiring any professional. His step by step guides will assist you in completing your home maintenance tasks.
Comments (0)