By Carl Tackett on Sep 17, 2009 with Comments 0
---
Are you dying to have a vacation? Come to Yellowstone where a lot of beautiful sights await you: Old Faithful Geysers, Abraham Lincoln Memorial Monument, Black Hill, Yellowstone Park and many museums such as Buffalo Bill Historic Museum and National Museum of Wildlife Art. America's first national park is Yellowstone Park, which was established in the year 1872. Yellowstone is a great place to have a vacation and there are several ways to get there. If you want to get there fast you can opt to fly in, but if you want to see the countryside then take a bus tour or better yet take your car for a ride to Yellowstone.
Instructions
Make a list of your planned destinations and look for the nearest entrance point so you can decide if you want to fly in or you can simply check out the internet for travel and tour agencies that offers guided tours to Yellowstone like AmFac Parks & Resorts and Yellowstone Tours & Travel (see resources for the website). Ask the travel and tour agencies for their vacation packages so you can be sure if the sights you want to see are included in their vacation packages.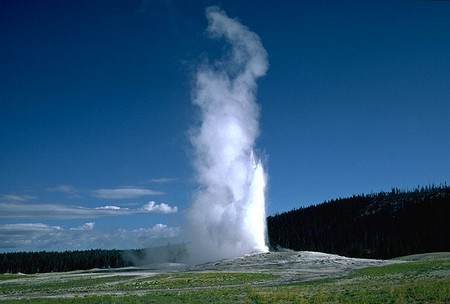 Browse the travel map and proposed itineraries if you plan to drive to Yellowstone (see resources for the website). The site offers 10 possible routes from different entrances to Yellowstone with different lists of tourist sights.
Pack up your bags and travel light after you have chosen your mode of transportation and your itinerary for a vacation to Yellowstone.
Tips
Airline travel will depend on the season you are planning to travel to Yellowstone.
If you are planning to travel by bus tour or driving your own car, then summer will be the best time to travel and not winter because of the road conditions.
When traveling for the first time to Yellowstone it will be best to opt for a guided bus tour or call on a travel and tour agency for safety precautions.
There are five possible entrances to Yellowstone you can choose from such as the West Entrance which is through the West Yellowstone Montana; South Entrance which is through Jackson Wyoming and Grand Teton National Park; East Entrance which is through Cody Wyoming; North Entrance which is through Gardiner Montana and the Northeast Entrance which is through Cooke City Montana.
Since there are so many things to see in Yellowstone, you should prioritize which sights you want to see and preferably choose those that are nearby each other so you will not have to spend most of your time on the road.
Warnings
Make sure that the map you have with you is up to date when you are driving your car to Yellowstone. And also take note of the gasoline stations along the way so you will not run out of gas in the middle of nowhere.
Make sure that your car is in good condition for long distance travel before you start your journey.
Filed Under: Uncategorized
About the Author: Carl Tackett is a travel enthusiast. He has traveled to over 50 destinations all over the world. Currently, he is residing in England. He loves to write about traveling and helping fellow travelers.
Comments (0)