By Justin Belden on Aug 05, 2010 with Comments 0
---
I am sure almost all of us use the computer daily, and the software that we make use of the most for our everyday home works and assignments or any other office documentation is the Microsoft Word. It is extensive formats, is user-friendly, and easy to learn and use. We all know what wonders Word can do for our documents due to its multi-tasking but we actually never take full advantage of all the functions that it has just because we are not aware of them. For instance, very few of us would know that Microsoft Word is capable of translating our papers into various foreign languages with the help of its bilingual dictionary plus some other trust worthy translation websites on the internet.
To begin with, you do not have to worry about the length of your article; it maybe a sentence, a paragraph or even pages-Word will translate it all. For smaller phrases and clauses Word usually takes help from its own usually look up on some websites so make sure the internet is on when you set for work. A very important point here to remember is that if your article contains a little too many scientific or legal or medical terms, it might not be possible for Word to get exact translations. In that case, you'll need to hire certified translators from a reputable company like Espresso Translations, you can check additional information at Espresso Translations site.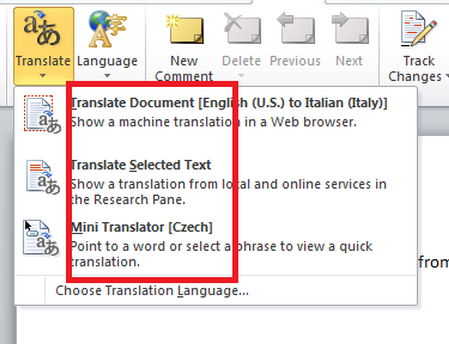 So, to translate lead the following steps:
Open your document and in the look for the task pane situated at the top of your window.
Click on the 'Review' button. You will find it exactly In the middle of the pane.
Once there, select the 'Translate' option situated on the left most side of the task bar. Its icon is a lower case 'a' pointing downwards with an arrow.
Click the button for the 'Research' window to open on the right side of the screen.
There you will find 2 drop down lists. Select the 'From' list to choose the language your document is written in. By default it is set to English. The select the 'To' list to choose whatever language you want your text to be translated into.
Once done with the above step, click on the green arrow to start translation. For bigger paragraphs a dialog box will appear on the screen to ask permission for sending your text to a translation website. The name of the website will always be mentioned. Selecting 'yes 'will take the process forward and 'no' will make it stop.
When done, a window will appear with you translated document. You can copy it down save it for further use.
Hopefully, the above steps will serve the purpose of an easy detailed guide and make you appreciate Microsoft Word even more for its fabulous features.
Filed Under: Computers & Technology
About the Author: Justin Belden is a freelance web & graphic designer with over 15 years' experience. He is also an Avid member of the Design/Development community and a Serial Blogger who loves to help people by sharing interesting and informative tips and trick related to computer and technology.
Comments (0)